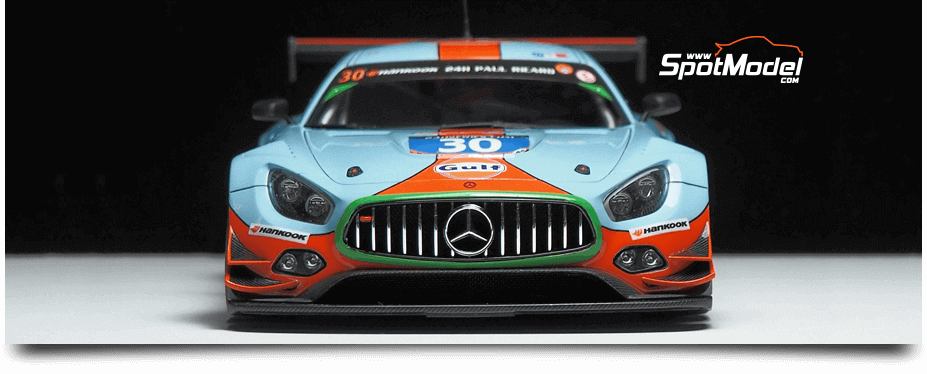 Oh My God!!
What could be better than buying a model at
SpotModel
? Maybe working at
SpotModel
? Yes, that's really good without any doubts, but it's waaaay better seeing builds as spectacular as the Mercedes in the cover picture, sent to us by a good friend.
We are scale modellers, we build models, we love models
, and every time we come across a top-class build we can't do anything but admire it, delight ourselves, try to learn, and applaud that hard-working modeler who, against all odds, against the scoldings from his wife, against job overtimes and against TV and consoles, manages to take time to build and even to make them that spectacular.
Modelers of the world, thank you for sending to
SpotModel
pictures of your assemblies, we love it!!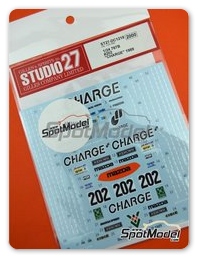 Studio27: Marking / livery 1/24 scale - Mazda 767B Charge #202 - Takashi Yorino (JP) - 24 Hours Le Mans 1989 - water slide decals and assembly instructions - for Hasegawa references 20312, 20325, 20359, hsg20359, 4967834203594, CC-18, CC-20, SP60, 51560, SP88 and 51588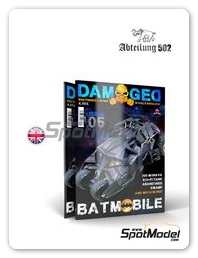 AK Interactive: Magazine - Damaged - Weathered and worn: Number 5 - english edition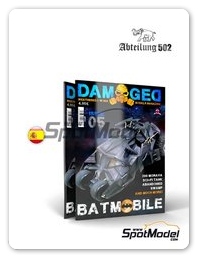 AK Interactive: Magazine - Damaged - Weathered and worn: Number 5 - spanish edition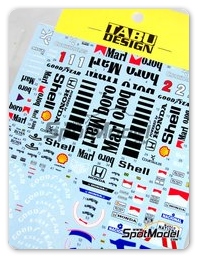 Tabu Design: Marking / livery 1/20 scale - McLaren Honda MP4/5 Marlboro #1, 2 - Ayrton Senna (BR), Alain Prost (FR) - FIA Formula 1 World Championship 1989 - water slide decals - for Fujimi references FJ090573, 090573, 09057, GP-16, GP16, FJ09062, 090627, 09062, GP-19, FJ090627, 090627, 09062, GP-19, FJ090665, 090665, 09066, GP-22, FJ090719, 090719, 09071 and GPSP-14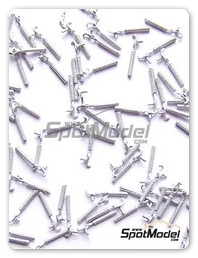 Scale Production: Detail 1/24 scale - Spring hood pins - white metal parts - 4 units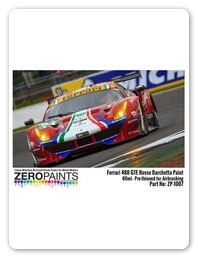 Zero Paints: Paint - Ferrari 488 GTE AF Corse Rosso Barchetta 312 - 1 x 60ml - for Airbrush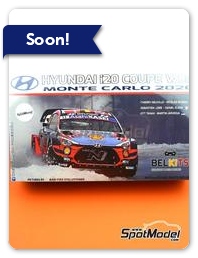 Belkits: Model car kit 1/24 scale - Ford RS200 Group B #6 - Kalle Grundel (SE) + Benny Melander (SE) - Lombard RAC Rally 1986 - photo-etched parts, plastic parts, rubber parts, seatbelt fabric, water slide decals, assembly instructions and painting instructions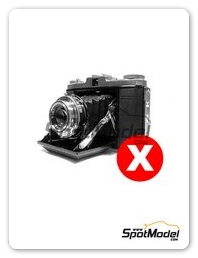 Model Factory Hiro: Model car kit 1/12 scale - Ferrari 156/85 Fiat Agip #27, 28 - Michele Alboreto (IT), Stefan Johansson (SE) - Canadian Formula 1 Grand Prix 1985 - metal parts, photo-etched parts, resin parts, rubber parts, seatbelt fabric, turned metal parts, vacuum formed parts, water slide decals, white metal parts, assembly instructions and painting instructions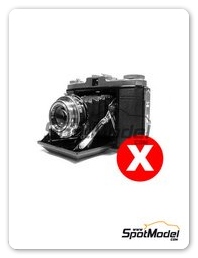 Model Factory Hiro: Model car kit 1/12 scale - Ferrari 156/85 Fiat Agip #27, 28 - Michele Alboreto (IT), Stefan Johansson (SE) - Italian Formula 1 Grand Prix 1985 - metal parts, photo-etched parts, resin parts, rubber parts, seatbelt fabric, turned metal parts, vacuum formed parts, water slide decals, white metal parts, assembly instructions and painting instructions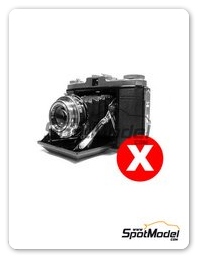 Model Factory Hiro: Model car kit 1/12 scale - Ferrari 156/85 Fiat Agip #27, 28 - Michele Alboreto (IT), Stefan Johansson (SE) - Portuguese Formula 1 Grand Prix 1985 - metal parts, photo-etched parts, resin parts, rubber parts, seatbelt fabric, turned metal parts, vacuum formed parts, water slide decals, white metal parts, assembly instructions and painting instructions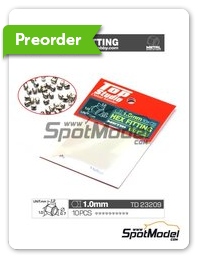 Top Studio: Nuts - Hex fitting 1.0mm - metal parts - 10 units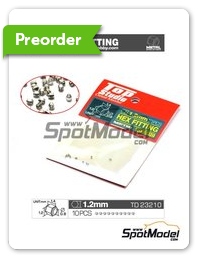 Top Studio: Nuts - Hex fitting 1.2mm - metal parts - 10 units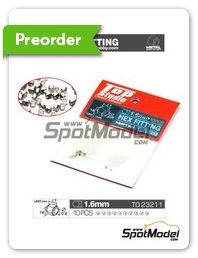 Top Studio: Nuts - Hex fitting 1.6mm - metal parts - 10 units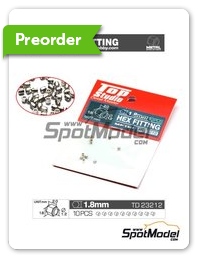 Top Studio: Nuts - Hex fitting 1.8mm - metal parts - 10 units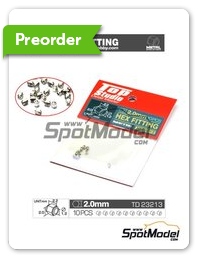 Top Studio: Nuts - Hex fitting 2.0mm - metal parts - 10 units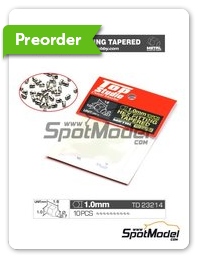 Top Studio: Nuts - Hex fitting tapered 1.0mm - metal parts - 10 units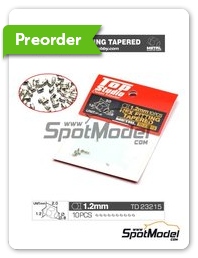 Top Studio: Nuts - Hex fitting tapered 1.2mm - metal parts - 10 units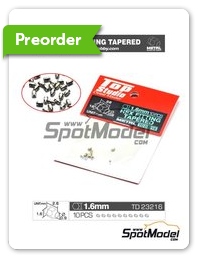 Top Studio: Nuts - Hex fitting tapered 1.6mm - metal parts - 10 units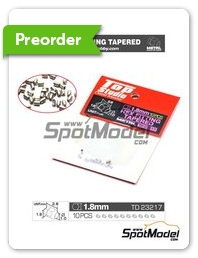 Top Studio: Nuts - Hex fitting tapered 1.8mm - metal parts - 10 units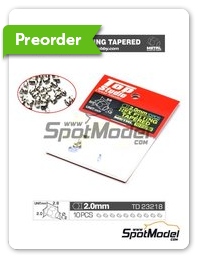 Top Studio: Nuts - Hex fitting tapered 2.0mm - metal parts - 10 units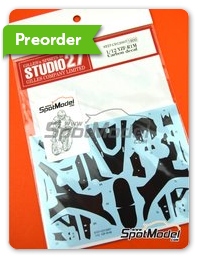 Studio27: Carbon fibre pattern decal 1/12 scale - Yamaha YZF-R1M - water slide decals and assembly instructions - for Tamiya references TAM14133, 14133, HC-14133, 4950344141333 and TMY14133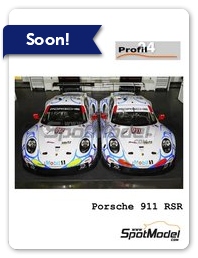 Profil24: Model car kit 1/24 scale - Porsche 911 RSR Mobil 1 #911, 912 - Petit Le Mans 2018 - resin parts, vacuum formed parts, water slide decals, white metal parts and assembly instructions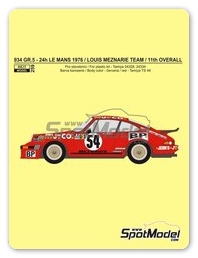 Reji Model: Marking / livery 1/24 scale - Porsche 934 Turbo RSR Group 5 Meznarie Racing Team #54 - Hubert Striebig (FR) + Anne-Charlotte Verney (FR) - 24 Hours Le Mans 1976 - resin parts, water slide decals, assembly instructions and painting instructions - for Tamiya references TAM24328, 24328, TAM24334 and 24334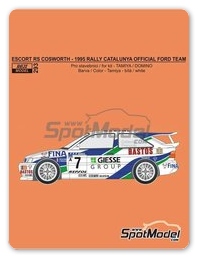 Reji Model: Marking / livery 1/24 scale - Ford Escort RS Cosworth Official Ford Team #7, 8 - Francois Delecour (FR) + Catherine Francois (Fr), Bruno Thiry (BE) + Stéphane Prévot (BE) - Catalunya Costa Dorada RACC Rally 1995 - resin parts, water slide decals, assembly instructions and painting instructions - for Domino reference DMN24144, or Tamiya references TAM24153, 24153 and TAM24xxx
Copyright © SpotModel