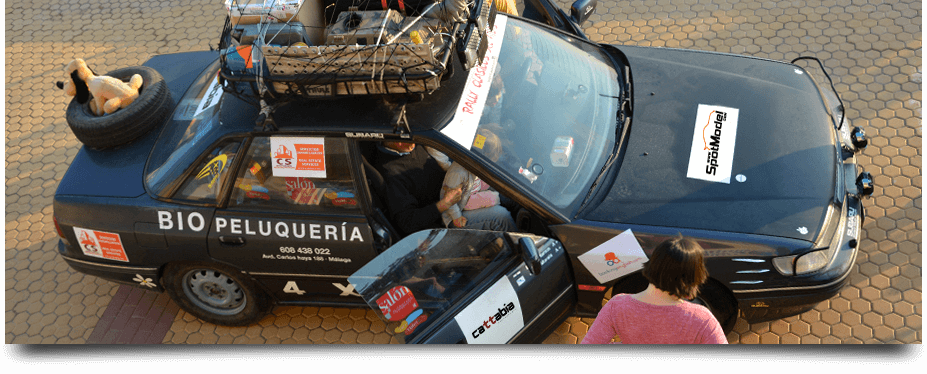 Atlas Classics Rally
Last week took place the
Atlas Classics Rally
at Morocco, an event that combines the taste of
adventure and competition
with an admirable
humanitarian work
. The adventure is a journey through
Morocco
driving popular and at least twenty years old classics and off-road vehicles.
We have left our mark among the memories, adventures and anecdotes of the Rally: the
Subaru Legacy
of our beloved Jorge and Beatriz worn the
SpotModel
logo on its bodywork
Next year, there will be more
SpotModel
in this fantastic Rally for sure!!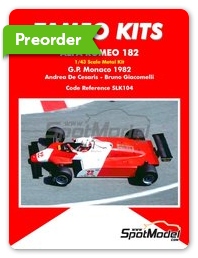 Tameo Kits: Model car kit 1/43 scale - Alfa Romeo 182 Michelin #22 - Andrea de Cesaris (IT), Bruno Giacomelli (IT) - Monaco Grand Prix 1982 - photo-etched parts, rubber parts, turned metal parts, water slide decals, white metal parts and assembly instructions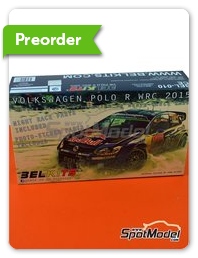 Belkits: Model car kit 1/24 scale - Volkswagen Polo R WRC #1 - Sébastien Ogier (FR) + Julien Ingrassia (FR) - Montecarlo Rally 2015 - photo-etched parts, plastic parts, rubber parts, water slide decals and assembly instructions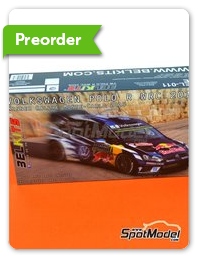 Belkits: Model car kit 1/24 scale - Volkswagen Polo R WRC #1 - Sébastien Ogier (FR) + Julien Ingrassia (FR) - Montecarlo Rally 2016 - photo-etched parts, plastic parts, rubber parts, water slide decals and assembly instructions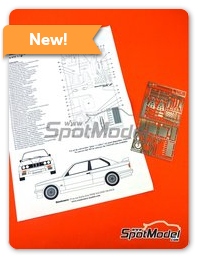 Renaissance Models: Upgrade 1/24 scale - BMW M3 E30 Rally - photo-etched parts and assembly instructions - for Beemax Model Kits kit B24007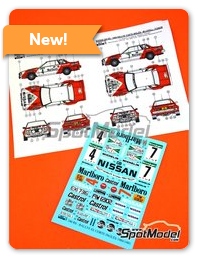 Reji Model: Marking 1/24 scale - Nissan 240RS Marlboro #4, 7 - Terry Kaby (GB) + Kevin Gormley (GB), Mark Lovell (GB) + Peter Davis (GB) - El Corte Ingles Rally 1984, 1985 - water slide decals and assembly instructions - for Beemax Model Kits kit B24008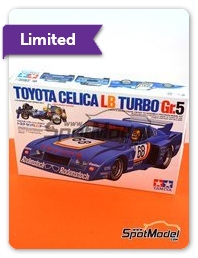 Tamiya: Model car kit 1/24 scale - Toyota Celica LB Turbo Group 5 Schnitzer Rodenstock #68, 56 - German Racing GTs Championship 1977 - plastic parts, water slide decals and assembly instructions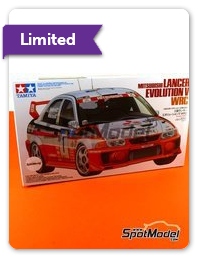 Tamiya: Model car kit 1/24 scale - Mitsubishi Lancer Evolution V WRC Michelin #1, 2 - Timo Mäkinen (FI) + Risto Mannisenmäki (FI) - Catalunya Costa Dorada Rally 1998 - plastic parts, water slide decals and assembly instructions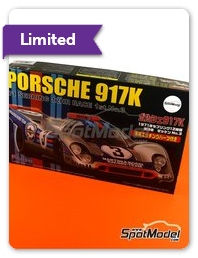 Fujimi: Model car kit 1/24 scale - Porsche 917K Martini #3 - Vic Elford (GB) + Gérard Larrousse (FR) - 12 Hours Sebring 1971 - plastic parts, rubber parts, water slide decals and assembly instructions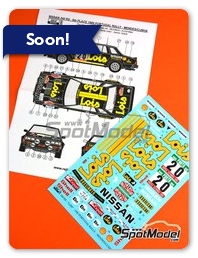 Reji Model: Marking 1/24 scale - Nissan 240 RS Lois #20 - Portugal Rally 1985 - water slide decals and assembly instructions - for Beemax Model Kits kit B24008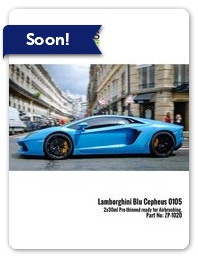 Zero Paints: Paint - Lamborghini Blu Cepheus blue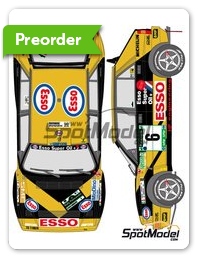 Shunko Models: Marking 1/24 scale - Lancia Super Delta Esso # 6 - Piero Longhi (IT) + Maurizio Imerito (IT) - Rally Piancavallo 1993 - water slide decals and assembly instructions - for Hasegawa kit 25015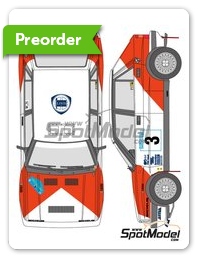 Shunko Models: Marking 1/24 scale - Lancia Delta Marlboro #3 - Mikael Ericsson (SE) + Claes Billstam (SE) - The International Swedish Rally 1989 - water slide decals and assembly instructions - for Hasegawa kit 20289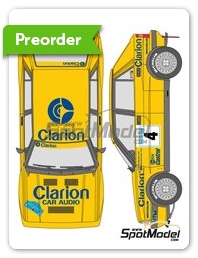 Shunko Models: Marking 1/24 scale - Lancia Delta Clarion Camel #4 - Per Eklund (SE) + Dave Whitlock (GB) - The International Swedish Rally 1989 - water slide decals and assembly instructions - for Hasegawa kit 20289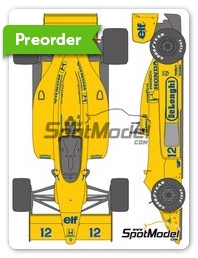 Shunko Models: Marking 1/20 scale - Lotus Honda 99T De Longhi Camel #11, 12 - Ayrton Senna (BR), Satoru Nakajima (JP) - World Championship 1987 - water slide decals and assembly instructions - for Tamiya kits TAM20020 and TAM20057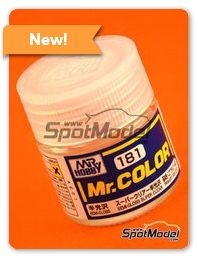 Mr Hobby: Mr Color paint product - Super Clear Semi-Gloss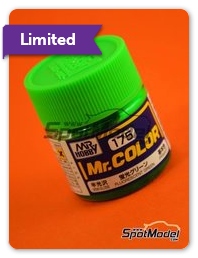 Mr Hobby: Mr Color paint product - Fluorescent green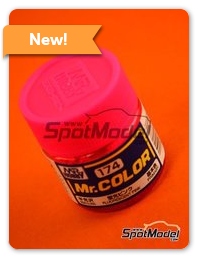 Mr Hobby: Mr Color paint product - Fluorescent pink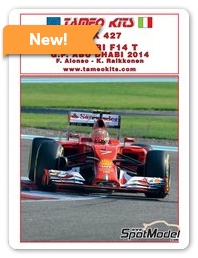 Tameo Kits: Model car kit 1/43 scale - Ferrari F14 Banco Santander #7, 14 - Fernando Alonso (ES), Kimi Räikkönen (FI) - Abu Dhabi Grand Prix 2014 - metal parts, photo-etched parts, rubber parts, water slide decals, white metal parts and assembly instructions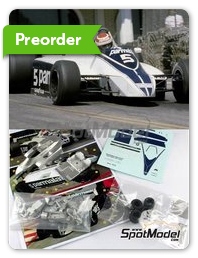 Tameo Kits: Model car kit 1/43 scale - Brabham Ford BT49 Parmalat #5, 6 - Nelson Piquet (BR), Ricardo Zunino (AR) - USA West Long Beach Grand Prix 1980 - metal parts, photo-etched parts, rubber parts, turned metal parts, water slide decals, white metal parts and assembly instructions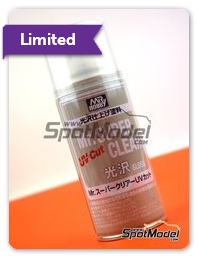 Mr Hobby: Clearcoat - Mr. Super Clear Gloss UV Cut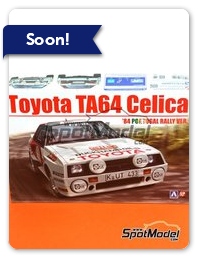 Beemax Model Kits: Model car kit 1/24 scale - Toyota TA64 Celica Duckhams Oils #11 - Juha Kankkunen (FI) + Juha Piironen (FI) - Portugal Rally 1984 - plastic parts, rubber parts, water slide decals and assembly instructions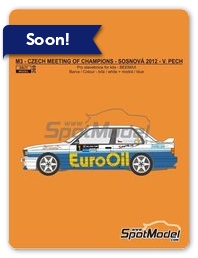 Reji Model: Marking 1/24 scale - BMW M3 E30 EuroOil #1 - Václav Pech (CZ) - Czech Meeting of Champions at Sosnová racetrack 2012 - water slide decals and assembly instructions - for Beemax Model Kits kit B24007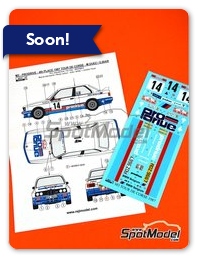 Reji Model: Marking 1/24 scale - BMW M3 E30 Prodrive #14 - Marc Duez (BE) + Georges Biar (BE) - Tour de Corse 1987 - water slide decals and assembly instructions - for Beemax Model Kits kit B24007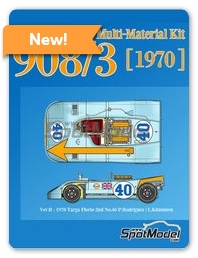 Model Factory Hiro: Model car kit 1/43 scale - Porsche 908/3 #40 - Pedro Rodriguez (MX) + Leo Kinnunen (FI) - Targa Florio 1970 - photo-etched parts, resin parts, rubber parts, water slide decals, white metal parts and assembly instructions
Copyright © SpotModel