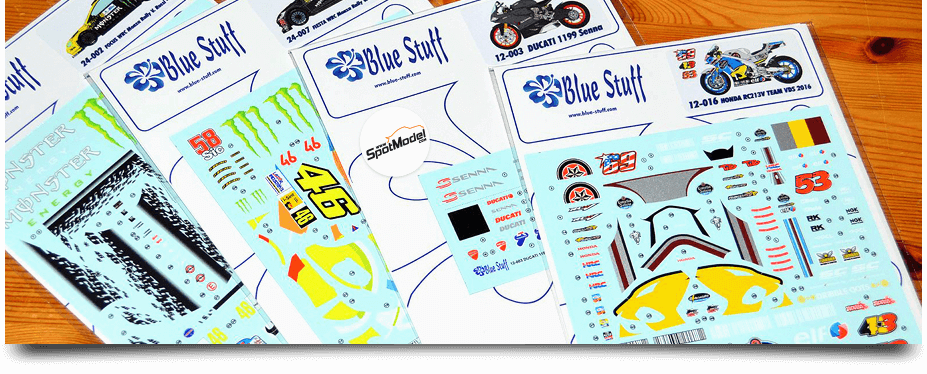 Blue Stuff
In our tireless effort to put at your disposal all the interesting stuff that is appearing, as far as civilian modeling is concerned, this week we bring good news again. Or, in other words, this week we continue expanding our already long list of manufacturers
On this occasion we present the French brand "
Blue Stuff
", with a large number of biker references in their product catalog. We are not 100% sure if the name refers to blue stuff literally, for us it sounds more like "wellDesignedManufacturedAndPackagedByPeopleWhoLovesModels" stuff. Yes, surely that's what it means
The first product supply from this manufacturer arrived a few days ago, and we only could cry with the excitement, drool with the emotion, and our right eyelid twitched heavily when we closely analyzed their stuff. The decals are designed with excellent detail, the manuals are clear and well explained, and it's a pleasure to look at them because they are divinely made. The resin parts are smooth and perfect. What else can you ask for?
Blue Stuff
has arrived at
SpotModel
... when will they arrive at your desk?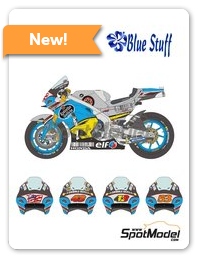 Blue Stuff: Marking / livery 1/12 scale - Honda RC213V Team Marc VDS Estrella Galicia #43, 53, 69 - Nicky Hayden (US), Jack Miller (AU), Esteve 'Tito' Rabat (ES) - Motorcycle World Championship 2016 - resin parts, water slide decals, assembly instructions and painting instructions - for Tamiya references TAM14130 and 14130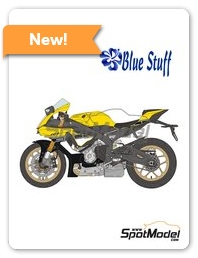 Blue Stuff: Marking / livery 1/12 scale - Yamaha YZF-R1 60th Anniversary Edition #46 - water slide decals, assembly instructions and painting instructions - for Tamiya references TAM14133, 14133, HC-14133, 4950344141333 and TMY14133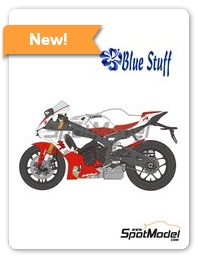 Blue Stuff: Marking / livery 1/12 scale - Yamaha YZF-R1 20th Anniversary Edition - water slide decals, assembly instructions and painting instructions - for Tamiya references TAM14133, 14133, HC-14133, 4950344141333 and TMY14133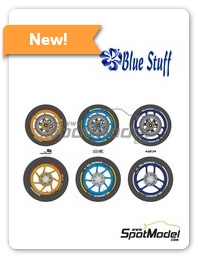 Blue Stuff: Logotypes 1/12 scale - Moto GP Tires and wheels : Michelin, Bridgestone, Battlax - water slide decals and assembly instructions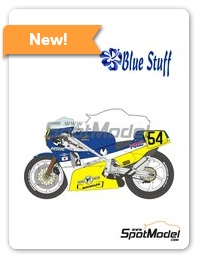 Blue Stuff: Marking / livery 1/12 scale - Honda NSR500 HRC-Moriwaki #54 - Shunji Yatsushiro (JP) - Motorcycle World Championship 1986 - water slide decals and assembly instructions - for Tamiya references TAM14099 and 14099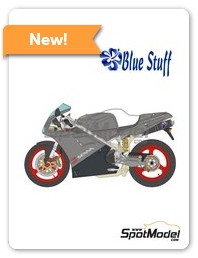 Blue Stuff: Marking / livery 1/12 scale - Ducati 916 Senna 1995, 1997 and 1998 - photo-etched parts, resin parts, water slide decals and assembly instructions - for Tamiya references TAM14068 and 14068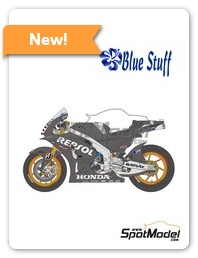 Blue Stuff: Marking / livery 1/12 scale - Honda RC213V HRC #27, 93 - Casey Stoner (AU), Marc Márquez (ES) - Test HRC Motegi, Test HRC Sepang 2014 and 2015 - resin parts, water slide decals, other materials, assembly instructions and painting instructions - for Tamiya references TAM14130 and 14130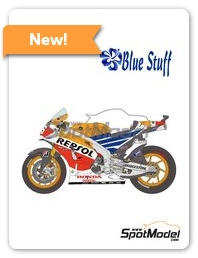 Blue Stuff: Marking / livery 1/12 scale - Honda RC213V Repsol #26 - Marc Márquez (ES) - Brno Moto GP Grand Prix 2014 - resin parts, water slide decals, other materials, assembly instructions and painting instructions - for Tamiya references TAM14130 and 14130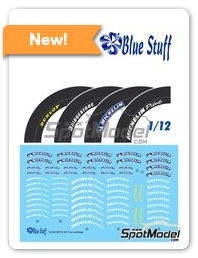 Blue Stuff: Logotypes 1/12 scale - Michelin, Dunlop, Michelin Pilot, Bridgestone - water slide decals, assembly instructions and painting instructions - for Tamiya references TAM14092, 14092, TAM14095, 14095, TAM14096, 14096, TAM14097, 14097, TAM14098, 14098, TAM14100, 14100, TAM14101, 14101, TAM14103, 14103, TAM14104, 14104, TAM14105, 14105, TAM14106, 14106, TAM14107, 14107, TAM14108, 14108, TAM14109, 14109, TAM14115, 14115, TAM14116, 14116, TAM14117, 14117, TAM14118, TAM14119 and 14119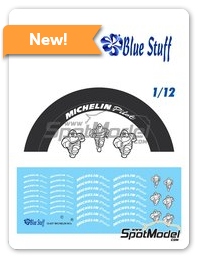 Blue Stuff: Logotypes 1/12 scale - Michelin Pilot 90s - water slide decals and assembly instructions - for Tamiya references TAM14071, 14071, TAM14072, 14072, TAM14076, 14076, TAM14077, 14077, TAM14078, 14078, TAM14081, 14081, TAM14082, 14082, TAM14083, 14083, TAM14086, 14086, TAM14088, 14088, TAM14089, 14089, TAM14091, 14091, TAM14092, 14092, TAM14095, 14095, TAM14096, 14096, TAM14097 and 14097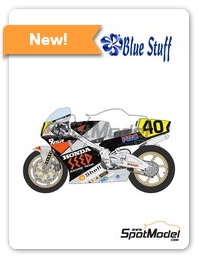 Blue Stuff: Marking / livery 1/12 scale - Honda NSR500 Seed Racing Team #40 - Shinichi Itoh (JP) - Motorcycle World Championship 1989 - water slide decals and assembly instructions - for Hasegawa references 21504 and BK-4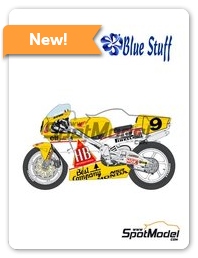 Blue Stuff: Marking / livery 1/12 scale - Honda NSR500 Team Gallina HB International #9 - Pierfrancesco Chili (IT) - Motorcycle World Championship 1989 - water slide decals and assembly instructions - for Hasegawa references 21504 and BK-4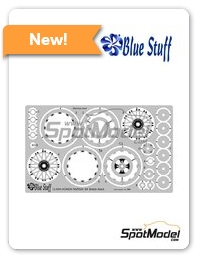 Blue Stuff: Detail up set 1/12 scale - Honda NSR500 1989 - photo-etched parts and assembly instructions - for Hasegawa references 21504 and BK-4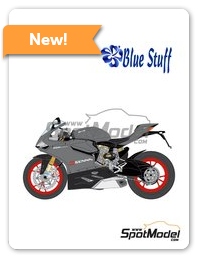 Blue Stuff: Marking / livery 1/12 scale - Ducati Panigale S Senna - water slide decals, assembly instructions and painting instructions - for Tamiya references TAM14129, 14129, TAM14132 and 14132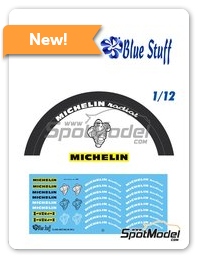 Blue Stuff: Logotypes 1/12 scale - Michelin radial 80s - water slide decals, assembly instructions and painting instructions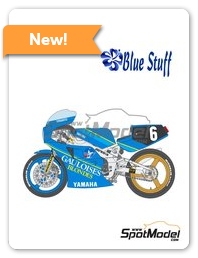 Blue Stuff: Marking / livery 1/12 scale - Yamaha YZF750 Gauloises #6 - 24 Hours Bol d'Or 1985 - water slide decals, assembly instructions and painting instructions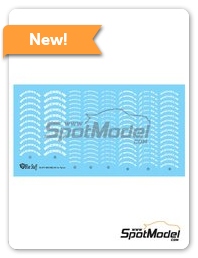 Blue Stuff: Logotypes 1/24 scale - Michelin Pilot SX - water slide decals - for Tamiya references TAM24091, 24091, TAM24092, 24092, TAM24094, 24094, TAM24121, 24121, TAM24125, 24125, TAM24137, 24137, 4950344963560, TAM24140, 24140 WA, TAM24148, 24148, TAM24149, 24149 JL, TAM24153, 24153, TAM24157, 24157, TAM24176, 24176, TAM24180, 24180, TAM24182, 24182, TAM24186, 24186, TAM24203, 24203, TAM24209, 24209, TAM24217, 24217, TAM24220, 24220, TAM24221, 24221, TAM24222, 24222, TAM24226, 24226, TAM24236, 24236, TAM24255, 24255, TAM24257, 24257, 257, TAM24262, 24262, TAM24267, 24267, TAM24283, 24283, TAM24310 and 24310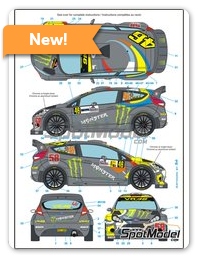 Blue Stuff: Marking / livery 1/24 scale - Ford Fiesta WRC Monster #46 - Monza Rally Show 2011 - water slide decals, assembly instructions and painting instructions - for Belkits reference BEL-003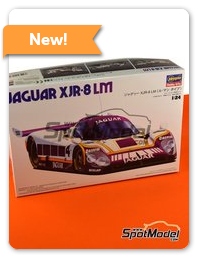 Hasegawa: Model car kit 1/24 scale - Jaguar XJR-8 LM Silk Cut #4, 5, 6 - Eddie Cheever (US) + Raul Boesel (BR), Jan Lammers (NL) + John Watson (GB) + Win Percy (GB), Martin Brundle (GB) + John Nielsen (DK) + Armin Hahne (DE) 1987 - plastic parts, rubber parts, water slide decals and assembly instructions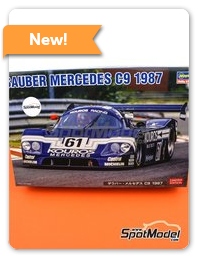 Hasegawa: Model car kit 1/24 scale - Sauber Mercedes C9 Kouros Racing Team #61, 62 - Chip Ganassi (US) + Johnny Dumfries (GB) + Mike Thackwell (NZ) - 24 Hours Le Mans, FIA World Sports-Prototype Championship (WSPC) 1987 - plastic parts, rubber parts, water slide decals, assembly instructions and painting instructions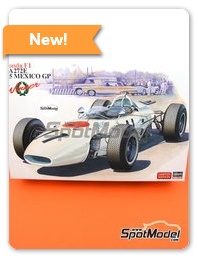 Hasegawa: Model car kit 1/24 scale - Honda F1 RA272E #11 - Mexican Formula 1 Grand Prix 1965 - plastic parts, rubber parts, water slide decals, assembly instructions and painting instructions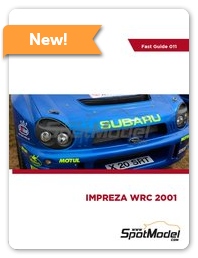 Komakai: Reference / walkaround book - Subaru Impreza WRC 2001 - for Tamiya references TAM24240 and 24240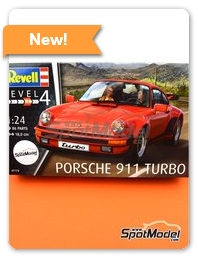 Revell: Model car kit 1/24 scale - Porsche 911 930 Turbo 1974 - 1989 - plastic parts, rubber parts, water slide decals, assembly instructions and painting instructions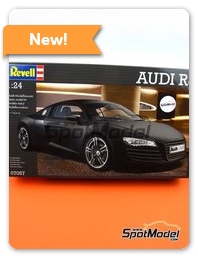 Revell: Model car kit 1/24 scale - Audi R8 - plastic parts, rubber parts, water slide decals and assembly instructions
Copyright © SpotModel