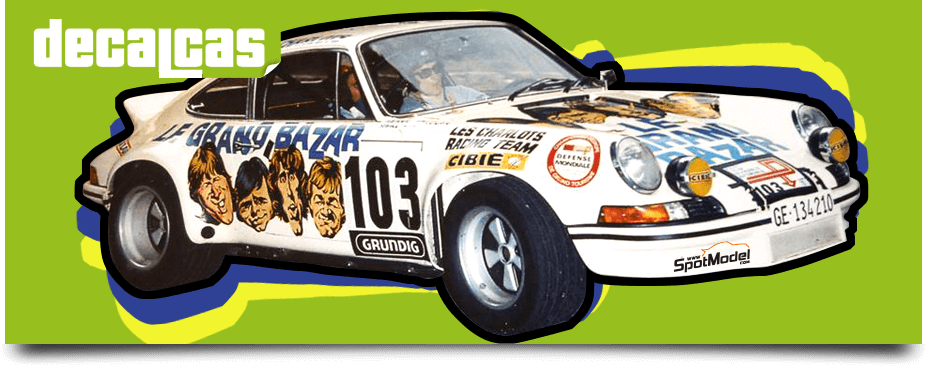 Les Charlots
In the 1960s, the musical group "Les Charlots" was born in France and first became known for their songs and then for their films, which had a curious comic style full of continuous jokes.
One of the most famous films was "Le Grand Bazar", which was promoted in a beautiful
Porsche 911
in the
1973 Tour de Corse
, characterized by including the caricatures of Les Charlots on the sides of the car, as well as the name of the movie in big blue letters.
This curious and striking vehicle has caught the attention of the guys at
Decalcas
who have just announced to us that the livery will be available shortly, to be used on the
Porsche 911 RS by Fujimi
. It's always good to put a little humor in your models, right?
As always, you can reserve them now at
SpotModel
, the "Big Bazaar" of scale modeling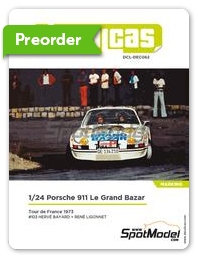 Decalcas: Marking / livery 1/24 scale - Porsche 911 RS Les Charlots Racing Team sponsored by Le Grand Bazar #103 - Herbe Bayard (FR) + René Ligonnet (FR) - Tour de France Automobile 1973 - water slide decals and assembly instructions - for Fujimi references FJ126586, 126586 and RS-26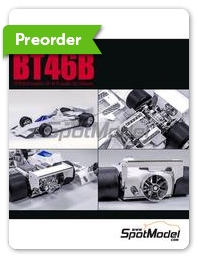 Model Factory Hiro: Car scale model kit 1/12 scale - Brabham BT46B Brabham Racing Organisation Team sponsored by Parmalat #1, 2 - Niki Lauda (AT), John Watson (GB) - Swedish Formula 1 Grand Prix 1978 - photo-etched parts, resin parts, rubber parts, turned metal parts, vacuum formed parts, water slide decals, white metal parts, other materials, assembly instructions and placement instructions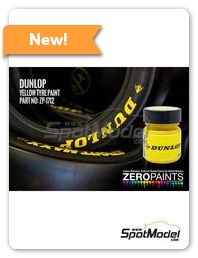 Zero Paints: Paint for airbrush - Dunlop Tyre Yellow - 1 x 30ml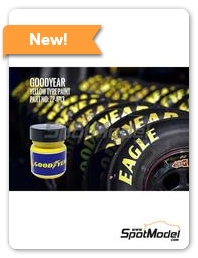 Zero Paints: Paint for airbrush - Goodyear Yellow Tyre - 1 x 30ml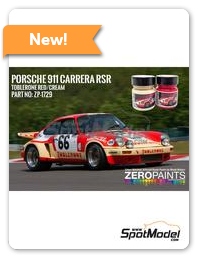 Zero Paints: Paints set for airbrush - Toblerone Red - Cream - 2 x 30ml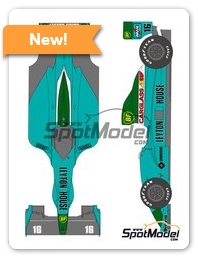 Shunko Models: Marking / livery 1/20 scale - Leyton House Judd CG901 sponsored by Carglass #15, 16 - Ivan Capelli (IT), Mauricio Gugelmin (BR) - FIA Formula 1 World Championship 1990 - water slide decals and placement instructions - for Tamiya reference TAM20028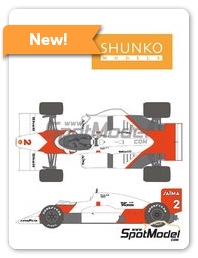 Shunko Models: Marking / livery 1/20 scale - McLaren TAG Porsche MP4/2B McLaren Racing Limited Team sponsored by Marlboro #1, 2 - Niki Lauda (AT), Alain Prost (FR) - Monaco Formula 1 Grand Prix 1985 - water slide decals, assembly instructions and tobacco sponsor decals - for Beemax Model Kits references BX20001 and Aoshima 081914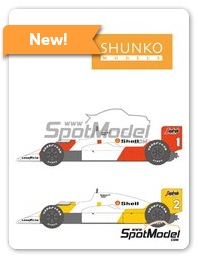 Shunko Models: Marking / livery 1/20 scale - McLaren TAG Porsche MP4/2C McLaren Racing Limited Team sponsored by Marlboro #1, 2 - Alain Prost (FR), Keijo Erik 'Keke' Rosberg (FI) - Australian Formula 1 Grand Prix, Portuguese Formula 1 Grand Prix 1986 - water slide decals, assembly instructions and tobacco sponsor decals - for Nunu references PN20001, B20005,B20001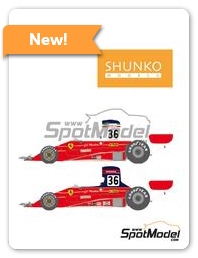 Shunko Models: Marking / livery 1/20 scale - Ferrari 312T Scuderia Everest Team #36 - Giancarlo Martini (IT) - ROC - Race of Champions Brands Hatch, BRDC International Trophy 1976 - water slide decals and placement instructions - for Hasegawa references 23202, 72136 and QG36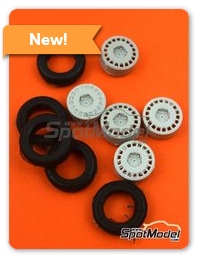 Reji Model: Rims and tyres set 1/24 scale - OZ Racing 5 screws with snow tyres - resin parts and rubber parts - 5 units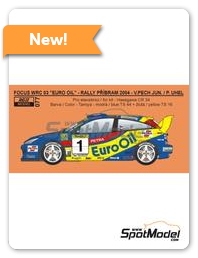 Reji Model: Marking / livery 1/24 scale - Ford Focus WRC 03 sponsored by Euro Oil #1 - Václav Pech (CZ) + Petr Uhel (CZ) - Príbram Rally 2004 - resin parts, rubber parts, water slide decals and placement instructions - for Hasegawa references 20263, 20380, HSG20380, 25034, CR-34 and HA20240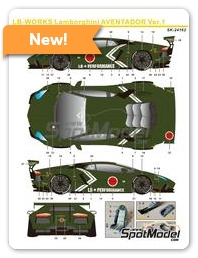 SK Decals: Marking / livery 1/24 scale - Lamborghini Aventador Liberty Walk LB Works Version 1 Zero Fighter - water slide decals and placement instructions - for Aoshima reference AOSH-059890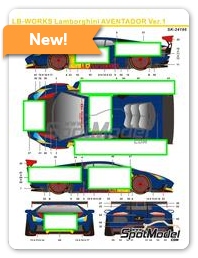 SK Decals: Marking / livery 1/24 scale - Lamborghini Aventador Liberty Walk LB Works Version 1 RB - water slide decals and placement instructions - for Aoshima references AOSH-059890 and AOSH-059937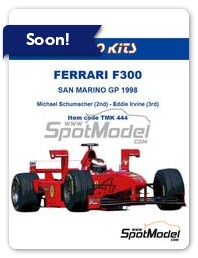 Tameo Kits: Car scale model kit 1/43 scale - Ferrari F300 Scuderia Ferrari Team #3, 4 - Michael Schumacher (DE), Eddie Irvine (GB) - San Marino Formula 1 Grand Prix 1998 - photo-etched parts, rubber parts, turned metal parts, vacuum formed parts, water slide decals, white metal parts, other materials, assembly instructions and painting instructions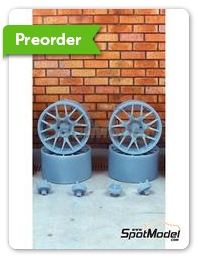 Scale Production: Rims 1/24 scale - BBS CH-R 19 inches - 3D printed parts - 4 units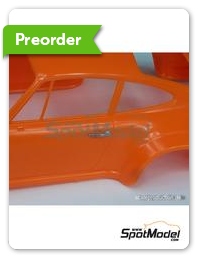 Scale Production: Detail 1/24 scale - Porsche 911 door handles - white metal parts - 2 units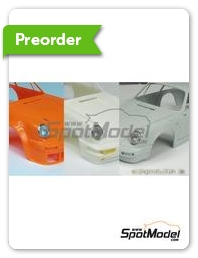 Scale Production: Lights 1/24 scale - Porsche 911 headlights - white metal parts and other materials - 2 units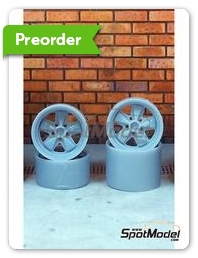 Scale Production: Rims 1/24 scale - Fuchs RSR 1973 15 inches - 3D printed parts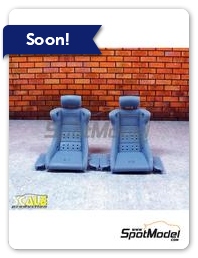 Scale Production: Seat 1/24 scale - Recaro Singer Style - 3D printed parts - 2 units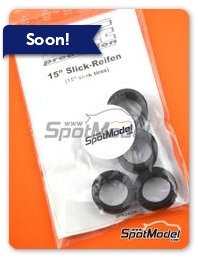 Scale Production: Tyre set 1/24 scale - Slicks 15 inches set 1 - rubber parts - 4 units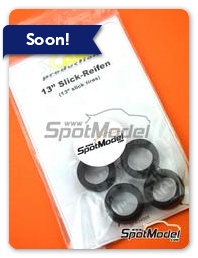 Scale Production: Tyre set 1/24 scale - Slicks 13 inches - rubber parts - 4 units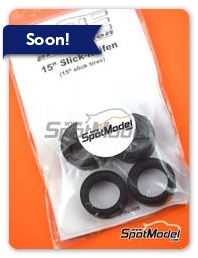 Scale Production: Tyre set 1/24 scale - Slicks 15 inches set 2 - rubber parts - 4 units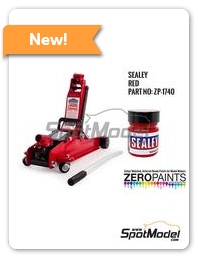 Zero Paints: Paint for airbrush - Sealey Tools Red - 1 x 30ml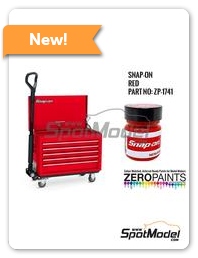 Zero Paints: Paint for airbrush - Snap-On Tools Red - 1 x 30ml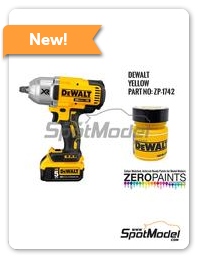 Zero Paints: Paint for airbrush - Dewalt Tools Yellow - 1 x 30ml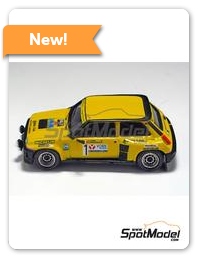 Arena Modelli: Car scale model kit 1/43 scale - Renault 5 Turbo sponsored by Autogamma #1 - Livio Lupidi (IT) + Arles Montenesi (IT) - Rally Due Valli 1983 - resin multimaterial kit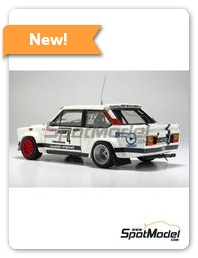 Arena Modelli: Car scale model kit 1/43 scale - Fiat 131 Abarth Sivama Team #4 - Giovanni Casarotto (IT) + Maurizio Pattaro (IT) - Rally Due Valli 1981 - photo-etched parts, resin parts, rubber parts, turned metal parts, water slide decals, white metal parts and assembly instructions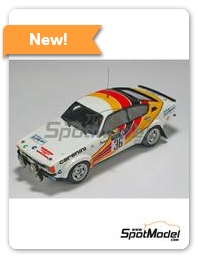 Arena Modelli: Car scale model kit 1/43 scale - Opel Kadett GTE 2000 Group 2 Carenini Team #36 - Aldo Fasan (IT) + Silviano Reginato (IT) - Rally Due Valli 1980 - photo-etched parts, resin parts, rubber parts, water slide decals, other materials and assembly instructions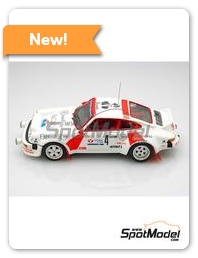 Arena Modelli: Car scale model kit 1/43 scale - Porsche 911 SC Group 4 sponsored by Falcaro #4 - Graziano Quartesan (IT) + Piero Vianello (IT) - Rally Due Valli 1984 - photo-etched parts, resin parts, rubber parts, water slide decals and assembly instructions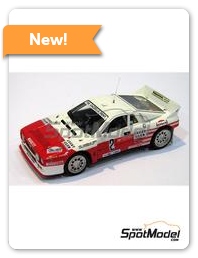 Arena Modelli: Car scale model kit 1/43 scale - Lancia Rally 037 sponsored by Lucky Club #2 - Luigi "Lucky" Battistolli (IT) + Luiggi Dalla Pozza (IT) - Rally Due Valli 1987 - photo-etched parts, rubber parts, water slide decals, white metal parts and assembly instructions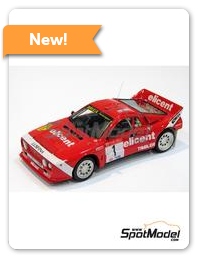 Arena Modelli: Car scale model kit 1/43 scale - Lancia Rally 037 Brixia Motorsport Team sponsored by Elicent #1 - Giacomo Bossini (IT) + Ugo Pasotti (IT) - Rally Due Valli 1986 - photo-etched parts, rubber parts, turned metal parts, water slide decals, white metal parts and assembly instructions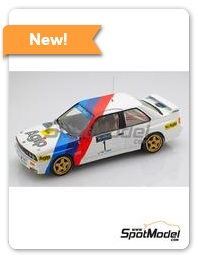 Arena Modelli: Car scale model kit 1/43 scale - BMW M3 E30 Group A BMW Italia Team sponsored by Agip #1 - Andrea Zanussi (IT) + Paolo Amati (IT) - Rally Due Valli 1988 - resin multimaterial kit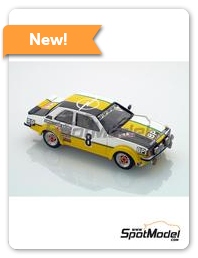 Arena Modelli: Car scale model kit 1/43 scale - Opel Ascona Group 2 Simon Racing Team sponsored by BP #8 - Jean-Louis Clarr (FR) + Jean-Francois Fauchille (FR) - Critérium Alpin Rally 1980 - photo-etched parts, resin parts, rubber parts, vacuum formed parts, water slide decals, white metal parts and assembly instructions
Copyright © SpotModel