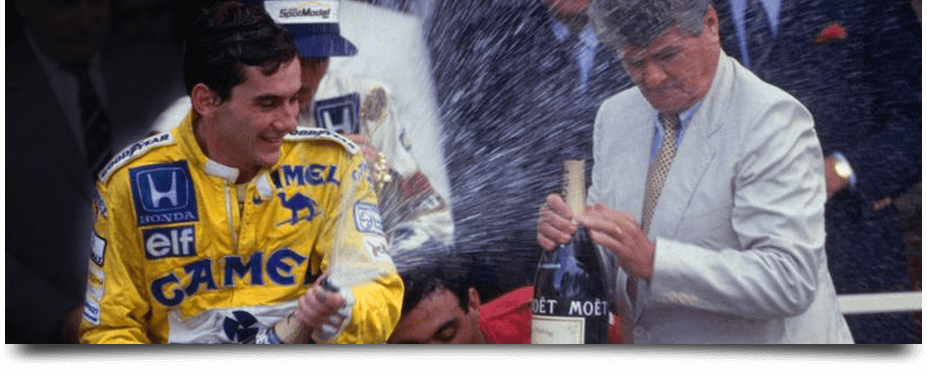 99T
We already told you in newsletter number 463 that
Nunu
was working on the version of the
Lotus Honda 99T
in
1/12 scale
, and today we can say that the kit is expected to see the light at the end of the year and will recreate the configuration used at the
Mónaco Grand Prix
, where
Senna
achieved his first of many victories in Formula 1 in this track. But the best of all is that... you can already preorder it NOW at
SpotModel
!!!
Nunu
has not provided any more details, besides the prototype that was shown in Shizuoka, but surely there will be an additional set with the photoetched parts, antennas, harnesses, etc... And everything indicates that it is very likely that the tobacco logos are not included on the model.
Let's be patient and build some other models while
Nunu
finishes preparing the product, such as the new kit from
Tameo's Montegrosso
range of the
Ferrari 500
in
1/43 scale
, or some of your veteran models with the freshly printed decals reissued by
Shunko
like the
Skyline GT- R
. We can also stockpile on the decals for the
BMW M8
that
SK Decals
has released for the
Nunu
's model that will arrive at
SpotModel
in the coming weeks.
Which one is faster, Senna at the wheel of the 99T clocking a lap record at Mónaco or
SpotModel
presenting you the news?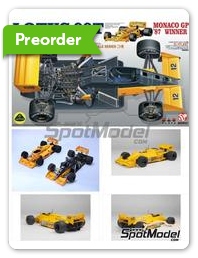 Nunu: Model car kit 1/12 scale - Lotus Honda 99T Lotus Team sponsored by Camel DeLonghi #11, 12 - Satoru Nakajima (JP), Ayrton Senna da Silva (BR) - Monaco Formula 1 Grand Prix 1987 - plastic parts, rubber parts, water slide decals, assembly instructions and painting instructions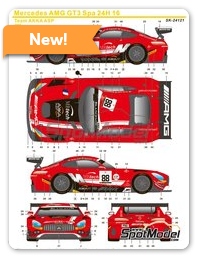 SK Decals: Marking / livery 1/24 scale - Mercedes AMG GT3 AKK ASP Team sponsored by MBtech #88 - 24 Hours SPA Francorchamps 2016 - water slide decals, assembly instructions and painting instructions - for Tamiya references TAM24345 and TAM24350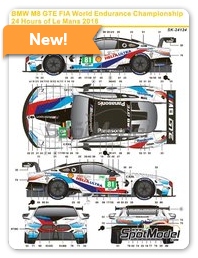 SK Decals: Marking / livery 1/24 scale - BMW M8 GTE MTEK Team sponsored by Panasonic #81, 82 - Martin Tomczyk (DE) + Nick Catsburg (NL), Augusto Farfus (BR) + A. Sims (GB) - 24 Hours Le Mans 2018 - water slide decals, assembly instructions and painting instructions - for Nunu references PN24010 and NU-24010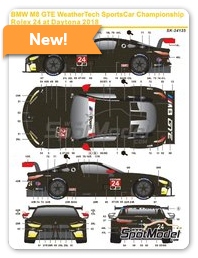 SK Decals: Marking / livery 1/24 scale - BMW M8 GTE RLL Team #24 - Augusto Farfus (BR) - Rolex 24 Hours of Daytona 2018 - water slide decals, assembly instructions and painting instructions - for Nunu references PN24010 and NU-24010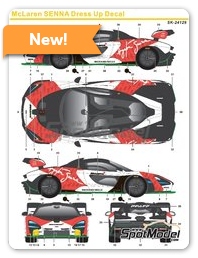 SK Decals: Marking / livery 1/24 scale - McLaren Senna sponsored by Richard Mille - water slide decals, assembly instructions and painting instructions - for Tamiya references TAM24355, T24355 and TAM24355ST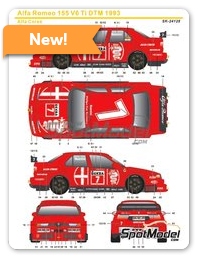 SK Decals: Marking / livery 1/24 scale - Alfa Romeo 155 V6 TI sponsored by Philips Car Systems #7, 8 - Alessandro Nannini (IT), Nicola Larini (IT) - DTM 1993 - water slide decals, assembly instructions and painting instructions - for Tamiya references TAM24137 and TAM96356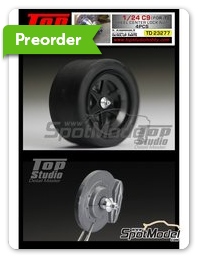 Top Studio: Nuts 1/24 scale - Mercedes Sauber C9 Wheel Center Lock Nuts - CNC metal parts - for Tamiya references TAM24091, TAM24310 and TAM24359 - 4 units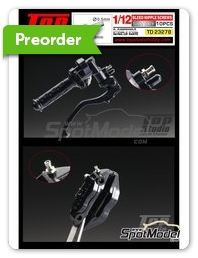 Top Studio: Detail 1/12 scale - Bleed Nipple Screws - CNC metal parts - 10 units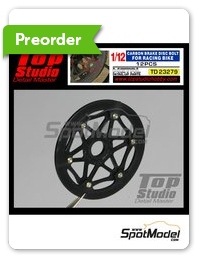 Top Studio: Detail 1/12 scale - Carbon Brake Disk Bolt for Racing Bike - CNC metal parts - 12 units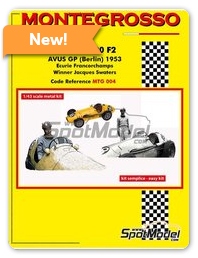 Tameo Kits: Model car kit 1/43 scale - Ferrari 500 F2 Ecurie Francorchamps Team #18 - Jacques Swaters (GB) - Avus Grand Prix Berlin 1953 - metal parts, photo-etched parts, rubber parts, water slide decals, white metal parts, assembly instructions and painting instructions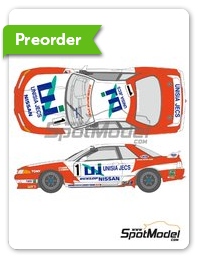 Shunko Models: Marking / livery 1/24 scale - Nissan Skyline GT-R Group A Hasemimotor Sport Team sponsored by Unisia Jecs #1 - Japan Touring Car Championship (JTCC) 1993 - water slide decals and assembly instructions - for Tamiya references TAM24102, TAM24105, TAM24113, TAM24117 and TAM24135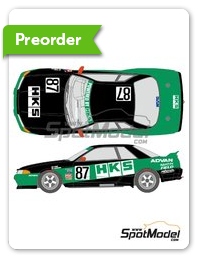 Shunko Models: Marking / livery 1/24 scale - Nissan Skyline GT-R Group A sponsored by HKS #87 - Japan Touring Car Championship (JTCC) 1992 - water slide decals and assembly instructions - for Tamiya references TAM24102, TAM24105, TAM24109, TAM24113, TAM24117 and TAM24135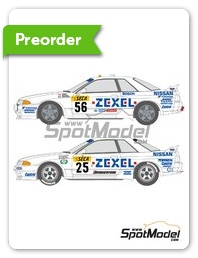 Shunko Models: Marking / livery 1/24 scale - Nissan Skyline GT-R Group A sponsored by Zexel #25, 56 - SPA Francorchamps 1990 and 1991 - water slide decals and assembly instructions - for Tamiya references TAM24102, TAM24105, TAM24109, TAM24113, TAM24117 and TAM24135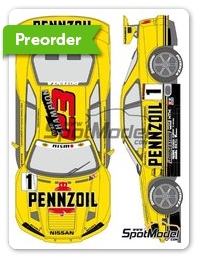 Shunko Models: Marking / livery 1/24 scale - Nissan Skyline Nismo GT-R R34 sponsored by Pennzoil #1 - Erik Comas (FR) + Satoshi Motoyama (JP) - Autobacs Super GT 1999 - water slide decals, assembly instructions and painting instructions - for Tamiya reference TAM24216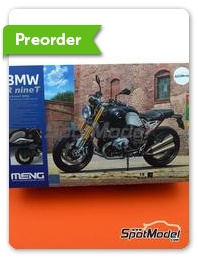 Meng Model: Model bike kit 1/9 scale - BMW R nineT - metal parts, photo-etched parts, plastic parts, rubber parts, water slide decals, other materials, assembly instructions and painting instructions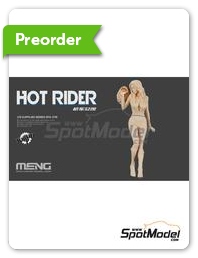 Meng Model: Figure 1/9 scale - Hot Rider - resin parts, water slide decals and assembly instructions - for Meng Model reference MT-003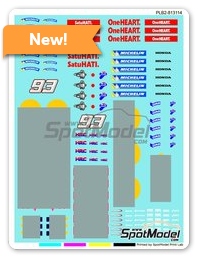 Print Lab Decals: Marking / livery 1/12 scale - Honda RC213V sponsored by RB #93 - Marc Márquez (ES) - Motorcycle World Championship 16 - water slide decals manufactured with digital technology - for Tamiya reference TAM14130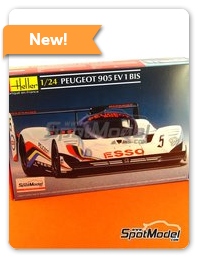 Heller: Model car kit 1/24 scale - Peugeot 905 Evo 1 Bis sponsored by Esso #5 - Yannick Dalmas (FR) + Keijo Erik 'Keke' Rosberg (FI), Phillippe Alliot (FR) + Mauro Baldi (IT) - FIA World Sports-Prototype Championship (WSPC) 1991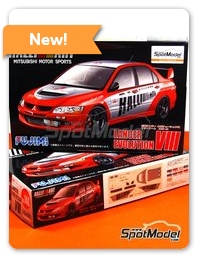 Fujimi: Model car kit 1/24 scale - Mitsubishi Lancer Evo VIII Mitsubishi Motor Sports Team sponsored by RalliArt - plastic parts, rubber parts, water slide decals, assembly instructions and painting instructions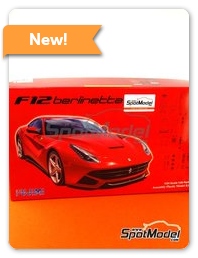 Fujimi: Model car kit 1/24 scale - Ferrari F12 Berlinetta - paint masks, photo-etched parts, plastic parts, rubber parts, water slide decals, other materials, assembly instructions and painting instructions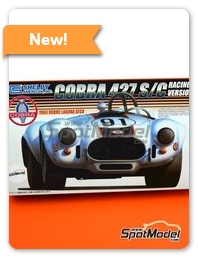 Fujimi: Model car kit 1/24 scale - Shelby Cobra 427 S/C #91 - USRRC Laguna Seca 1965 - plastic parts, rubber parts, water slide decals, assembly instructions and painting instructions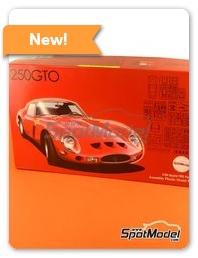 Fujimi: Model car kit 1/24 scale - Ferrari 250 GTO - plastic parts, rubber parts, water slide decals, assembly instructions and painting instructions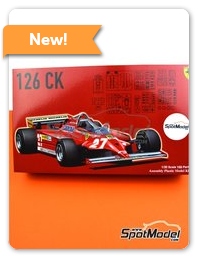 Fujimi: Model car kit 1/20 scale - Ferrari 126 CK Scuderia Ferrari Team sponsored by Michelin #27, 28 - Gilles Villeneuve (CA), Didier Pironi (FR) - FIA Formula 1 World Championship 1981 - plastic parts, rubber parts, water slide decals, assembly instructions and painting instructions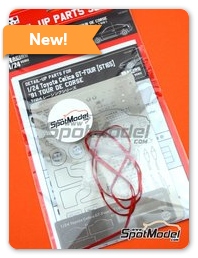 Nunu: Detail up set 1/24 scale - Toyota Celica GT-Four ST165 Group A - photo-etched parts, seatbelt fabric, turned metal parts and assembly instructions - for Nunu reference PN24015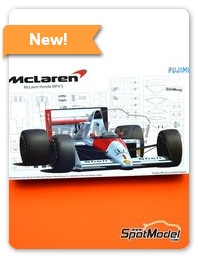 Fujimi: Model car kit 1/20 scale - McLaren Honda MP4/5 McLaren Racing Limited Team sponsored by Marlboro Shell #1, 2 - Ayrton Senna da Silva (BR), Alain Prost (FR) - Spanish Formula 1 Grand Prix 1989 - paint masks, plastic parts, rubber parts, water slide decals, assembly instructions and does NOT include tobacco sponsor decals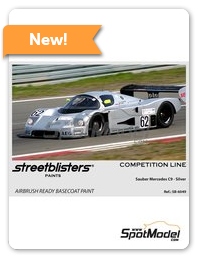 StreetBlisters: Paint for airbrush - Sauber Mercedes C9 Silver - 1 x 30ml - for Hasegawa reference 20306, or Tamiya reference TAM24359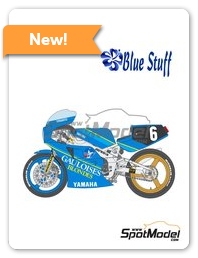 Blue Stuff: Marking / livery 1/12 scale - Yamaha FZR750 sponsored by Gauloises #6 - 24 Hours Bol d'Or 1985 - water slide decals, assembly instructions, painting instructions and tobacco sponsor decals - for Fujimi references FJ141312 and 14131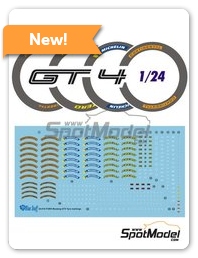 Blue Stuff: Logotypes 1/24 scale - Ford GT: tyre markings - water slide decals and assembly instructions - for Tamiya reference TAM24354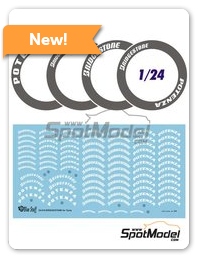 Blue Stuff: Logotypes 1/24 scale - Bridgestone Potenza - water slide decals and assembly instructions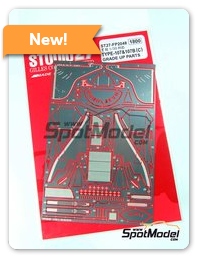 Studio27: Detail up set 1/20 scale - Lotus Type 107 and 107B - photo-etched parts and assembly instructions - for Tamiya references TAM20037 and TAM20038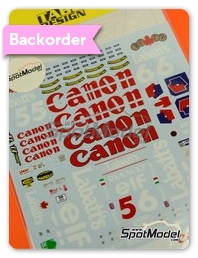 Tabu Design: Marking / livery 1/12 scale - Williams Renault FW14B Williams Grand Prix Engineering Team sponsored by Canon Camel #5, 6 - Nigel Ernest James Mansell (GB), Riccardo Patrese (IT) - World Championship 1992 - water slide decals, assembly instructions and tobacco sponsor decals - for Tamiya reference TAM12029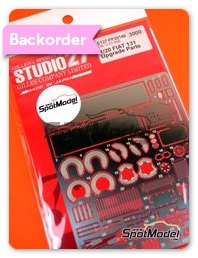 Studio27: Detail up set 1/20 scale - Fiat 131 Abarth - photo-etched parts and assembly instructions - for Tamiya references TAM20013, TAM20015 and TAM20069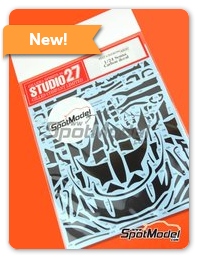 Studio27: Carbon fibre pattern decal set 1/24 scale - McLaren Senna - water slide decals and placement instructions - for Tamiya references TAM24355, T24355 and TAM24355ST
Copyright © SpotModel