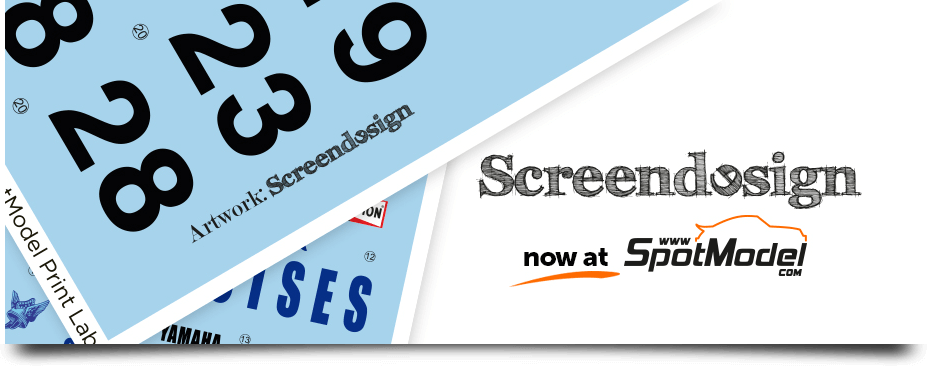 Screendesign
Dear biker friends, be well seated because what you are going to read is going to make your legs shake... If you like to build scale motorcycles, almost certainly you have used decals designed by
Screendesign
at some point. And the fact is that behind this name there are many years of making absolutely spectacular decal designs for prestigious brands such as
Ragged edge
,
Renaissance
or
Studio27
. If you pay attention you will see the
Screendesign
logo on them. Did you never noticed?
Well, we are delighted to announce that
Screendesign
has begun to upload unpublished designs to our
PrintLab
, so using
SpotModel
's exclusive digital printing technology you can have in your workbench many of the greatest graphic designs that
Screendesign
is updating and preparing. At the moment he has two designs for the
Yamaha YZR
and another two designs for the
Ducati Desmosedici GP3
, but there will be more soon.
Screendesign
draws,
SpotModel
does the magic of producing digital decals, and you enjoy them. Chapeau!!!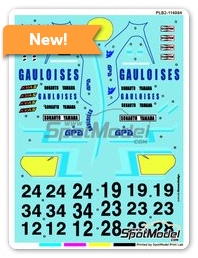 Print Lab Decals: Marking / livery 1/12 scale - Yamaha YZR500 sponsored by Gauloises Sonauto #12, 19, 23, 24, 28, 34 - Christian Sarron (FR), Raymond Roche (FR), Patrick Pons (FR) - Motorcycle World Championship 1979 - water slide decals manufactured with digital technology - for Tamiya reference TAM14001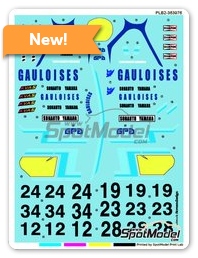 Print Lab Decals: Marking / livery 1/12 scale - Yamaha YZR500 sponsored by Gauloises Sonauto #12, 19, 23, 24, 23, 34 - Christian Sarron (FR), Raymond Roche (FR), Patrick Pons (FR) - Motorcycle World Championship 1980 - water slide decals manufactured with digital technology - for Tamiya reference TAM14001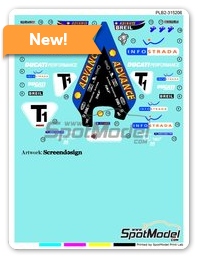 Print Lab Decals: Marking / livery 1/12 scale - Ducati Desmosedici GP3 - Press version 2003 - water slide decals manufactured with digital technology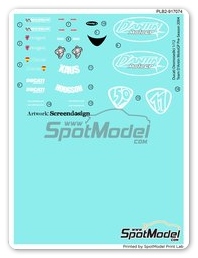 Print Lab Decals: Marking / livery 1/12 scale - Ducati Desmosedici GP3 Dantin MotoGP Team #11, 50 - Neil Hodgson (GB), Ruben Xaus (ES) - Test version 2004 - water slide decals manufactured with digital technology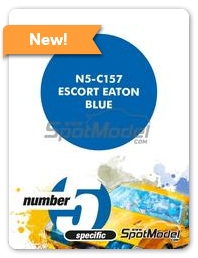 Number Five: Paint for airbrush - Escort Eaton Blue - 1 x 30ml - for Reji Model reference REJI-282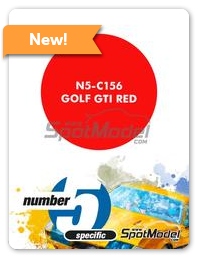 Number Five: Paint for airbrush - Golf GTI Red - 1 x 30ml - for Fujimi references FJ03042, ID-42, FJ03242, FJ03699, FJ04575, FJ046020, 04602, 46020, FJ12275, FJ12315, 123158, FJ123158, 12315, FJ12341, FJ12484, RS-47, FJ12498, 124988, RS-18, FJ124988, 12498, RS-18, FJ126098, 12609, RS-58, FJ126180, 12618 and RS-47, or Italeri references 3622 and 3622S, or Revell references REV07005, 80-7005, REV07072, 80-7072, REV07673 and REV07673.OUTLET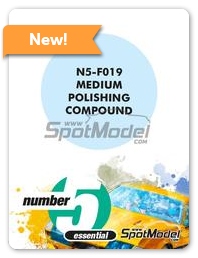 Number Five: Polish - Medium polishing compound - 1 x 30ml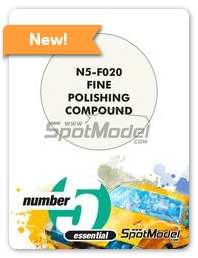 Number Five: Polish - Fine polishing compound - 1 x 30ml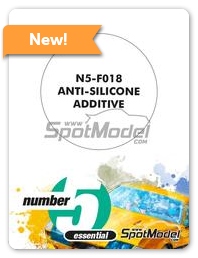 Number Five: Additive - Anti-silicone additive - 1 x 30ml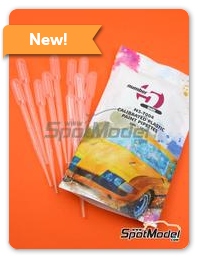 Number Five: Hobby tool - Calibrated Plastic Paint Pipettes - 3ml - plastic parts - 10 units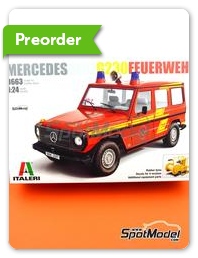 Italeri: Model car kit 1/24 scale - Mercedes Benz G230 - plastic parts, rubber parts, water slide decals, assembly instructions and painting instructions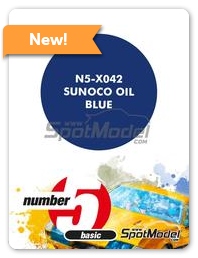 Number Five: Paint for airbrush - Sunoco Oil Blue - 1 x 30ml - for Model Factory Hiro references MFH-K287, K-287, MFH-K331, K-331, MFH-K585, K-585, MFH-K649, K-649, MFH-K799 and K-799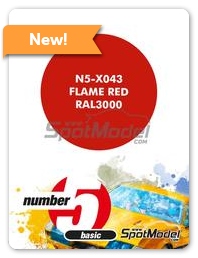 Number Five: Paint for airbrush - Flame Red RAL3000 - 1 x 30ml - for Italeri references 3660 and ITA3660, or Revell references REV07452, 7452, REV07516, REV07531 and REV07655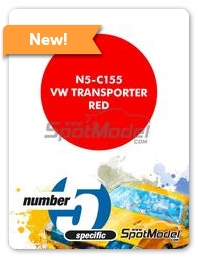 Number Five: Paint for airbrush - VW Transporter Red - 1 x 30ml - for Hasegawa references 20556, 21209, HC-9, HAS21209, HC-09, HSG21209, 21210, HC-10, HAHC10, HAS21210, 21211, HC-11, HAS21211, HC11 and HSG21211, or Revell references REV05672, REV07009, 80-7009, REV07049, REV7049, REV07076, 80-7076, REV07344, 80-7344, REV07399, REV07436, 80-7436, REV07667, REV07674, REV07675 and REV07677, or Ukrainian Scale Cars Production references USCP-24T039 and USCP-24T049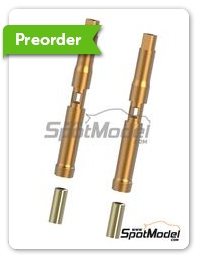 Meng Model: Front fork set 1/9 scale - BMW HP4 Race - turned metal parts - for Meng Model reference MT-004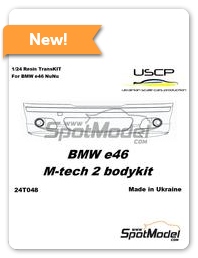 Ukrainian Scale Cars Production: Transkit 1/24 scale - BMW 320i e46 M-tech 2 Bodykit - resin parts - for Nunu references PN24007, NU-24007, PN24033 and NU-24033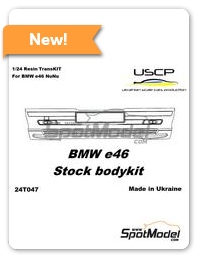 Ukrainian Scale Cars Production: Transkit 1/24 scale - BMW 320i e46 Stock Bodykit - resin parts - for Nunu references PN24007, NU-24007, PN24033 and NU-24033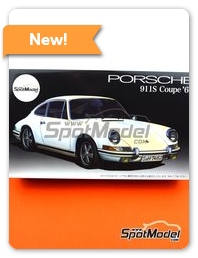 Fujimi: Model car kit 1/24 scale - Porsche 911 S Coupe 1969 - plastic parts, rubber parts, water slide decals, assembly instructions and painting instructions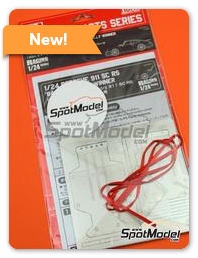 Nunu: Detail up set 1/24 scale - Porsche 911 SC - photo-etched parts, seatbelt fabric, turned metal parts, water slide decals, assembly instructions and tobacco sponsor decals - for Nunu reference PN24011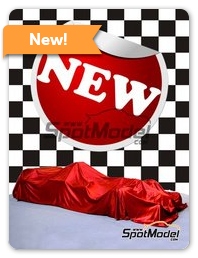 Nunu: Detail up set 1/24 scale - BMW M3 E30 Sport Evolution II sponsored by B-ing - Japan Touring Car Championship (JTCC) 1990 - photo-etched parts, seatbelt fabric, turned metal parts, water slide decals and assembly instructions - for Nunu references PN24019 and PN-24019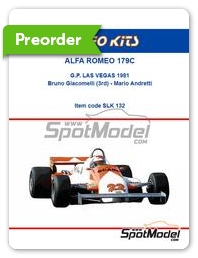 Tameo Kits: Model car kit 1/43 scale - Alfa Romeo 179C sponsored by Marlboro #22, 23 - Bruno Giacomelli (IT), Mario Andretti (US) - Las Vegas Formula 1 Grand Prix 1981 - metal parts, photo-etched parts, rubber parts, turned metal parts, vacuum formed parts, water slide decals, white metal parts, assembly instructions, painting instructions and tobacco sponsor decals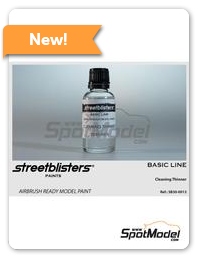 StreetBlisters: Thinner - Cleaning Thinner - 1 x 30ml
Italeri: Model car kit 1/12 scale - Bugatti Type 35B - metal parts, photo-etched parts, plastic parts, rubber parts, water slide decals, other materials, assembly instructions and painting instructions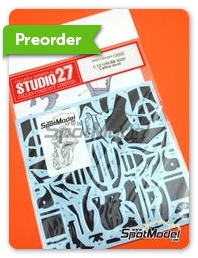 Studio27: Carbon fibre pattern decal set 1/12 scale - Suzuki GSX-RR 2020 - water slide decals and assembly instructions - for Tamiya reference TAM14139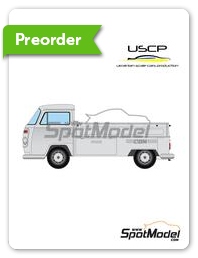 Ukrainian Scale Cars Production: Transkit 1/24 scale - Volkswagen Transporter T2 Pick-Up - resin parts - for Revell reference REV07667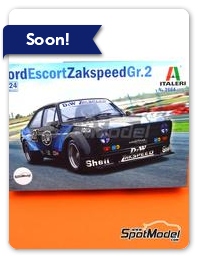 Italeri: Model car kit 1/24 scale - Ford Escort Zakspeed Group 2 1979 - plastic parts, rubber parts, water slide decals and assembly instructions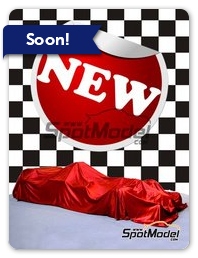 Model Factory Hiro: Model kit 1/24 scale - McLaren Honda MP4/5 McLaren Racing Limited Team sponsored by Marlboro #27,28 - Ayrton Senna da Silva (BR), Alain Prost (FR) - Spanish Formula 1 Grand Prix 1989 - metal parts, photo-etched parts, resin parts, turned metal parts, vacuum formed parts, water slide decals, white metal parts, other materials, assembly instructions, painting instructions and tobacco sponsor decals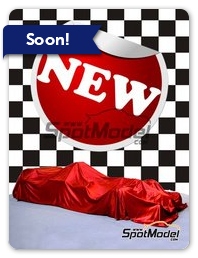 Model Factory Hiro: Model kit 1/24 scale - McLaren Honda MP4/5 McLaren Racing Limited Team sponsored by Marlboro #27,28 - Ayrton Senna da Silva (BR), Alain Prost (FR) - Japanese Formula 1 Grand Prix, Portuguese Formula 1 Grand Prix 1989 - metal parts, photo-etched parts, resin parts, turned metal parts, vacuum formed parts, water slide decals, white metal parts, other materials, assembly instructions, painting instructions and tobacco sponsor decals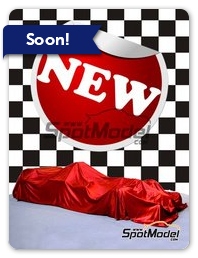 Model Factory Hiro: Model kit 1/24 scale - McLaren Honda MP4/5 McLaren Racing Limited Team sponsored by Marlboro #27,28 - Ayrton Senna da Silva (BR), Alain Prost (FR) - German Formula 1 Grand Prix, Italian Formula 1 Grand Prix 1989 - metal parts, photo-etched parts, resin parts, turned metal parts, vacuum formed parts, water slide decals, white metal parts, other materials, assembly instructions, painting instructions and tobacco sponsor decals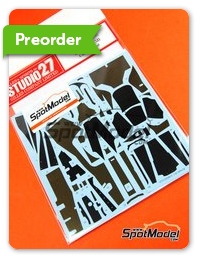 Studio27: Carbon fibre pattern decal set 1/20 scale - McLaren Honda MP4/5B McLaren Racing Limited Team sponsored by Marlboro Shell #27, 28 - Alain Prost (FR), Ayrton Senna da Silva (BR) - World Championship 1990 - for Tamiya references TAM20026, TAM89720 and TAM92209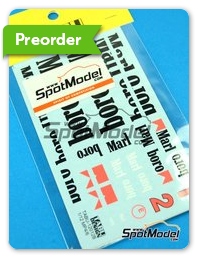 Tabu Design: Marking / livery 1/12 scale - McLaren Honda MP4/6 McLaren Racing Limited Team sponsored by Marlboro #1, 2 - Ayrton Senna da Silva (BR), Gerhard Berger (AT) - FIA Formula 1 World Championship 1991 - water slide decals and assembly instructions - for Tamiya references TAM12028, TAM49571 and TAM89721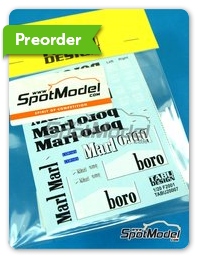 Tabu Design: Marking / livery 1/20 scale - Ferrari F2001 Scuderia Ferrari Team sponsored by Marlboro #1, 2 - Michael Schumacher (DE), Rubens Barrichello (BR) - FIA Formula 1 World Championship 2001 - water slide decals and tobacco sponsor decals - for Tamiya references TAM20052 and TAM20054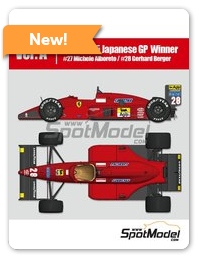 Model Factory Hiro: Model car kit 1/43 scale - Ferrari F187 Scuderia Ferrari Team sponsored by Fiat #27,28 - Michele Alboreto (IT), Gerhard Berger (AT) - Japanese Formula 1 Grand Prix 1987 - photo-etched parts, turned metal parts, water slide decals, white metal parts, assembly instructions and painting instructions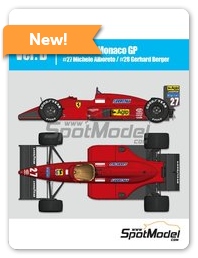 Model Factory Hiro: Model car kit 1/43 scale - Ferrari F187 Scuderia Ferrari Team sponsored by Fiat #27,28 - Michele Alboreto (IT), Gerhard Berger (AT) - Monaco Formula 1 Grand Prix 1987 - photo-etched parts, turned metal parts, water slide decals, white metal parts, assembly instructions and painting instructions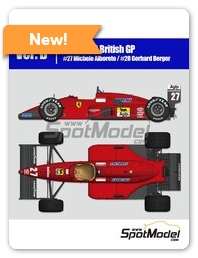 Model Factory Hiro: Model car kit 1/43 scale - Ferrari F187 Scuderia Ferrari Team sponsored by Fiat #27,28 - Michele Alboreto (IT), Gerhard Berger (AT) - British Formula 1 Grand Prix 1987 - photo-etched parts, turned metal parts, water slide decals, white metal parts, assembly instructions and painting instructions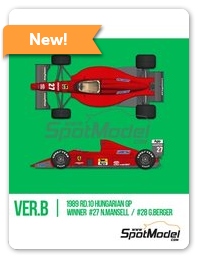 Model Factory Hiro: Model car kit 1/43 scale - Ferrari F1/89 640 Scuderia Ferrari Team sponsored by Fiat #27, 28 - Nigel Ernest James Mansell (GB), Gerhard Berger (AT) - Hungarian Formula 1 Grand Prix 1989 - photo-etched parts, turned metal parts, water slide decals, white metal parts, assembly instructions and painting instructions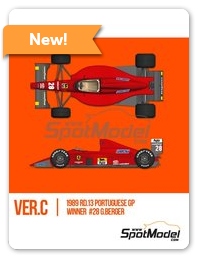 Model Factory Hiro: Model car kit 1/43 scale - Ferrari F1/89 640 Scuderia Ferrari Team sponsored by Fiat #27, 28 - Gerhard Berger (AT), Nigel Ernest James Mansell (GB) - Portuguese Formula 1 Grand Prix 1989 - photo-etched parts, turned metal parts, water slide decals, white metal parts, assembly instructions and painting instructions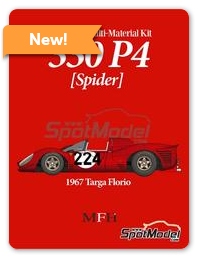 Model Factory Hiro: Model car kit 1/43 scale - Ferrari 330 P4 Spider #224 - Targa Florio 1967 - 3D printed parts, photo-etched parts, rubber parts, turned metal parts, vacuum formed parts, water slide decals, white metal parts, assembly instructions and painting instructions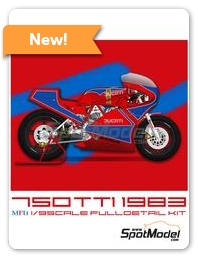 Model Factory Hiro: Model bike kit 1/9 scale - Ducati 750 TT1 1983 - CNC metal parts, metal parts, photo-etched parts, resin parts, rubber parts, turned metal parts, vacuum formed parts, water slide decals, white metal parts, other materials, assembly instructions and painting instructions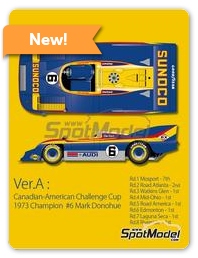 Model Factory Hiro: Model car kit 1/43 scale - Porsche 917/30 sponsored by Sunoco #6 - Mark Donohue (US) - Watkins Glen 6 Hours, 6 hours Mosport, 5 Hours Mid Ohio, IMSA Road America, Laguna Seca, 500 Km IMSA Road Atlanta, Edmonton, 5 Hours Riverside 1973 - 3D printed parts, photo-etched parts, rubber parts, turned metal parts, vacuum formed parts, water slide decals, white metal parts, assembly instructions and painting instructions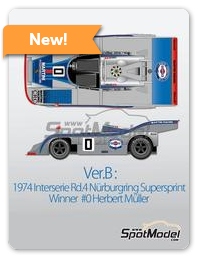 Model Factory Hiro: Model car kit 1/43 scale - Porsche 917/30 sponsored by Martini Racing #0 - Herbert Müller (CH) - Nürburgring Supersprint 1974 - 3D printed parts, photo-etched parts, rubber parts, turned metal parts, vacuum formed parts, water slide decals, white metal parts, assembly instructions and painting instructions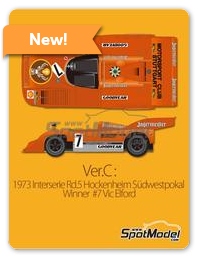 Model Factory Hiro: Model car kit 1/43 scale - Porsche 917/30 sponsored by Jagermeister #7 - Vic Elford (GB) - Hockenheim Südwestpokal 1973 - 3D printed parts, photo-etched parts, rubber parts, turned metal parts, vacuum formed parts, water slide decals, white metal parts, assembly instructions and painting instructions
Copyright © SpotModel