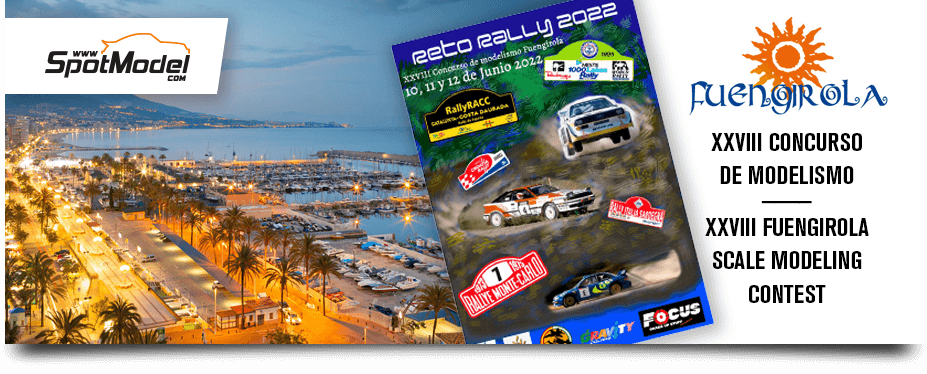 Rally challenge 2022
As many of you already know, the
SpotModel
facilities are located in southern Europe, at the Costa del Sol, an enviable place to live and work thanks to its microclimate with warm temperatures in summer and moderate temperatures in winter. We have beaches, forest and mountain areas, wonderful gastronomy, beautiful places to visit and enjoy. Where else could
SpotModel
be?
In addition, for modellers like us there is another attraction in the area, the
Fuengirola Modeling Contest
, an event that we have attended for many, many years... and that takes place this weekend!!! What an excitement, what a joy meeting again with the buddies to chat about models... Great!
In this edition there is a special prize called
Rally Challenge 2022
for those cars that have participated in any Rally, Raid and stage race, made in
1/24 scale
. Guys, this promises some serious fun!!! Be careful, the boss has already started packing a few models...
See you this weekend at Fuengirola? Look for cars, motorcycles or trucks and
SpotModel
will be right there.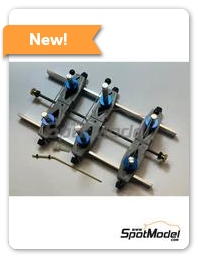 Marco Moto Design: Hobby tool 1/12 scale - MotoJig 2021 - 3D printed parts and metal parts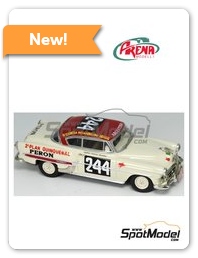 Arena Modelli: Model car kit 1/43 scale - Chevrolet Bel Air sponsored by Peron #244 - Guillermo G. Airaldi (AR) + Francisco Spatafora (AR) - Carrera Panamericana 1953 - photo-etched parts, resin parts, rubber parts, turned metal parts, white metal parts, assembly instructions and painting instructions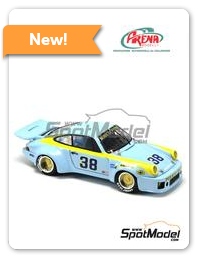 Arena Modelli: Model car kit 1/43 scale - Porsche 911 Carrera RSR Boricua Racing Team #33 - Bonky Fernandez (PR) + Walt Bohren (US) - Daytona 250 miles 1978 - photo-etched parts, resin parts, rubber parts, turned metal parts, water slide decals, white metal parts and painting instructions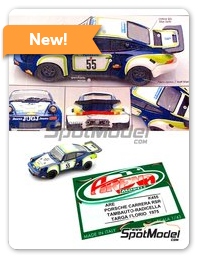 Arena Modelli: Model car kit 1/43 scale - Porsche 911 Carrera RSR sponsored by Le Vagabond Jeans #55 - Mario Radicella (IT) + Giuseppe Tambone "Tambauto" (IT) - Targa Florio 1975 - photo-etched parts, resin parts, rubber parts, turned metal parts, vacuum formed parts, water slide decals, white metal parts, assembly instructions and painting instructions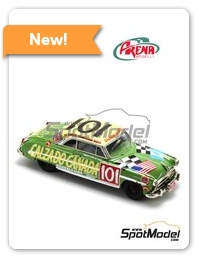 Arena Modelli: Model car kit 1/43 scale - Hudson Hornet sponsored by Calzado Canada #101 - Salvador López Chávez (MX) - Carrera Panamericana 1952 - metal parts, photo-etched parts, resin parts, rubber parts, white metal parts, assembly instructions and painting instructions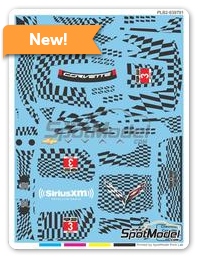 Print Lab Decals: Decals 1/27 scale - Chevrolet Corvette C7R #3 - 24 Hours of Daytona 2014 - water slide decals manufactured with digital technology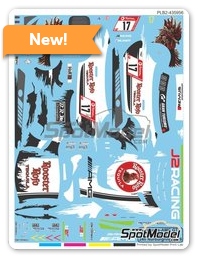 Print Lab Decals: Decals 1/27 scale - Mercedes AMG GT3 sponsored by Rooster Rojo #17 - 24 Hours Nürburgring 2019 - water slide decals manufactured with digital technology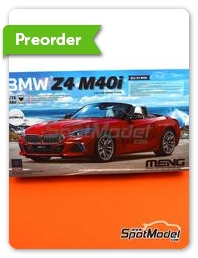 Meng Model: Model car kit 1/24 scale - BMW Z4 M40i - plastic parts, rubber parts, water slide decals, assembly instructions and painting instructions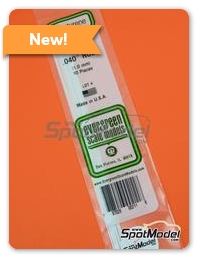 Evergreen Scale Models: Plasticard - Round solid 1 mm rod - plastic parts - 10 units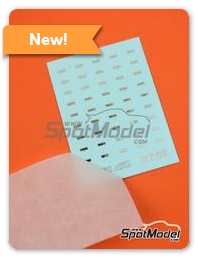 Tameo Kits: Decals 1/43 scale - Chromed mirrors - water slide decals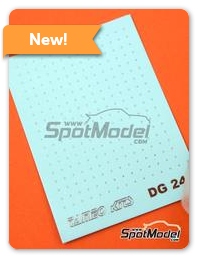 Tameo Kits: Decals 1/43 scale - Chrome rivet - type B - water slide decals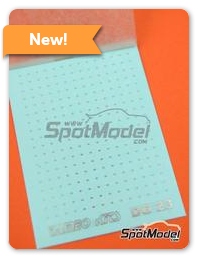 Tameo Kits: Decals 1/43 scale - Chrome Dzus fasteners - type A - water slide decals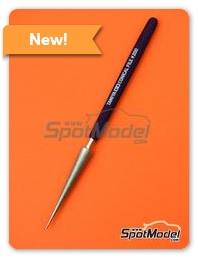 Tamiya: File - Conical File - metal parts and other materials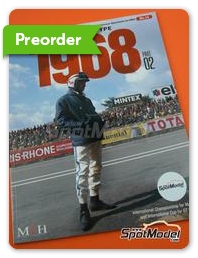 Model Factory Hiro: Reference / walkaround book - JOE HONDA Sportscar Spectacles by Hiro: Sport Prototypes - Part 2 1968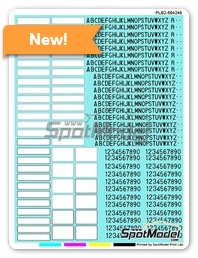 Print Lab Decals: Decals 1/18 scale - Matrículas Españolas 1971-1986 - water slide decals manufactured with digital technology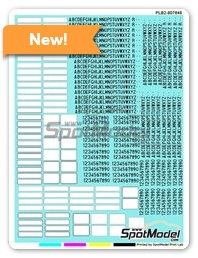 Print Lab Decals: Decals 1/24 scale - Matrículas Españolas 1971-1986 - water slide decals manufactured with digital technology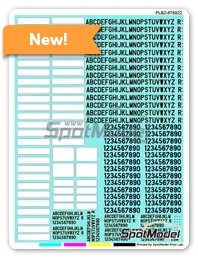 Print Lab Decals: Decals 1/18 scale - Matrículas Españolas 1986-2000 - water slide decals manufactured with digital technology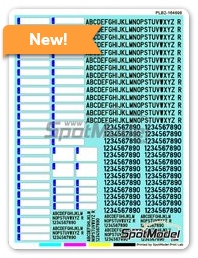 Print Lab Decals: Decals 1/18 scale - Matrículas Españolas Europeas 2000 - water slide decals manufactured with digital technology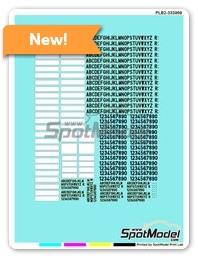 Print Lab Decals: Decals 1/24 scale - Matrículas Españolas 1986-2000 - water slide decals manufactured with digital technology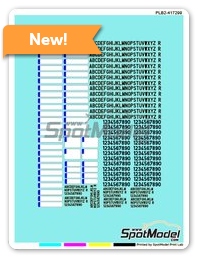 Print Lab Decals: Decals 1/24 scale - Placas Españolas Europeas 2000 - water slide decals manufactured with digital technology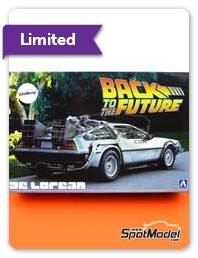 Aoshima: Model car kit 1/24 scale - DMC DeLorean Back to the Future I - plastic parts, rubber parts, water slide decals, assembly instructions and painting instructions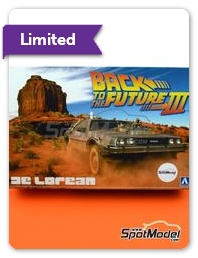 Aoshima: Model car kit 1/24 scale - DMC DeLorean Back to the Future III - plastic parts, rubber parts, water slide decals, assembly instructions and painting instructions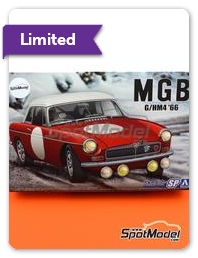 Aoshima: Model car kit 1/24 scale - MG MGB G/HM4 #47, 83 - Julien Vernaeve (BE) + Andrew Hedges (GB), Donald Jude Morley (GB) + Godfrey Erle Morley (GB) - Monte Carlo Rally - Rallye Automobile de Monte-Carlo, Marathon de la Route 1964 and 1966 - paint masks, photo-etched parts, plastic parts, rubber parts, water slide decals, assembly instructions and painting instructions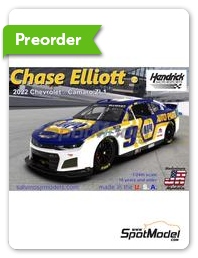 Salvinos JR Models: Model car kit 1/24 scale - Chevrolet Camaro ZL1 Hendrick Motorsports Team sponsored by Napa Auto Parts #9 - Chase Elliott (US) - Nascar - National Association for Stock Car Auto Racing 2022 - plastic parts, rubber parts, water slide decals, assembly instructions and painting instructions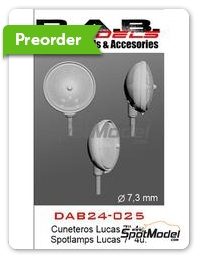 D.A.B. Models: Lights 1/24 scale - Lucas spotlamps 7 inches with lower mount - 3D printed parts and other materials - 4 units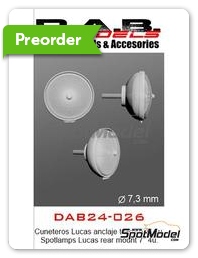 D.A.B. Models: Lights 1/24 scale - Lucas spotlamps 7 inches with rear mount - 3D printed parts and other materials - 4 units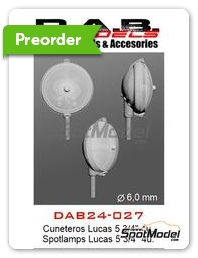 D.A.B. Models: Lights 1/24 scale - Lucas spotlamps 5 3/4 inches with lower mount - 3D printed parts and other materials - 4 units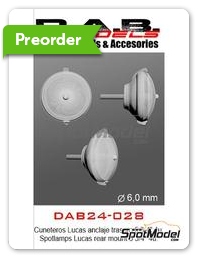 D.A.B. Models: Lights 1/24 scale - Lucas spotlamps 5 3/4 inches with rear mount - 3D printed parts and other materials - 4 units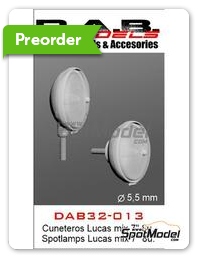 D.A.B. Models: Lights 1/32 scale - Lucas spotlamps 7 inches - 3D printed parts and other materials - 8 units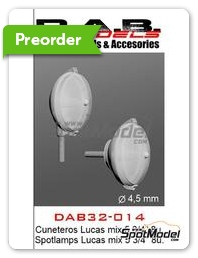 D.A.B. Models: Lights 1/32 scale - Lucas spotlamps 5 3/4 inches - 3D printed parts and other materials - 8 units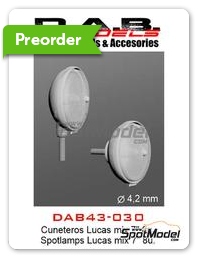 D.A.B. Models: Lights 1/43 scale - Lucas spotlamps 7 inches - 3D printed parts and other materials - 8 units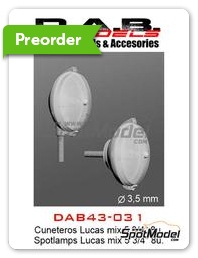 D.A.B. Models: Lights 1/43 scale - Lucas spotlamps 5 3/4 inches - 3D printed parts and other materials - 8 units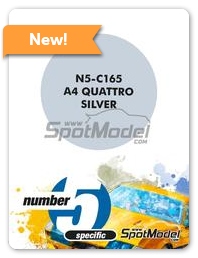 Number Five: Paint for airbrush - A4 Quattro Silver - 1 x 30ml - for Nunu reference PN24035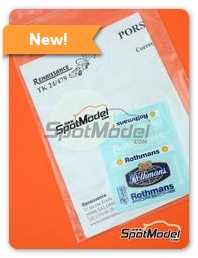 Renaissance Models: Marking / livery 1/24 scale - Porsche 911 SC RS sponsored by Rothmans Porsche - Oman International Rally 1985 - water slide decals and tobacco sponsor decals - for Nunu reference PN24011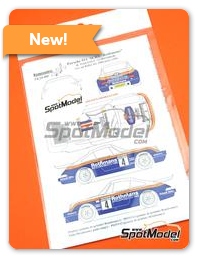 Renaissance Models: Marking / livery 1/24 scale - Porsche 911 SC RS sponsored by Rothmans Porsche #2, 4, 6 - Henri Toivonen (FI) + Ian Grindrod (GB), Bernard Béguin (FR) + Christian 'Tilber' Gilbert (FR) - 1000 Pistes Rally, Ypres Rally, Tour de France Automobile 1984 and 1985 - water slide decals, assembly instructions and tobacco sponsor decals - for Nunu reference PN24011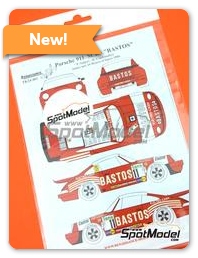 Renaissance Models: Marking / livery 1/24 scale - Porsche 911 SC RS Bastos Racing Team sponsored by Electro-Cash #11 - Patrick Snijers (BE) + Dany Colebunders (BE) - Ypres Rally 1984 - water slide decals, assembly instructions and tobacco sponsor decals - for Nunu reference PN24011
Copyright © SpotModel