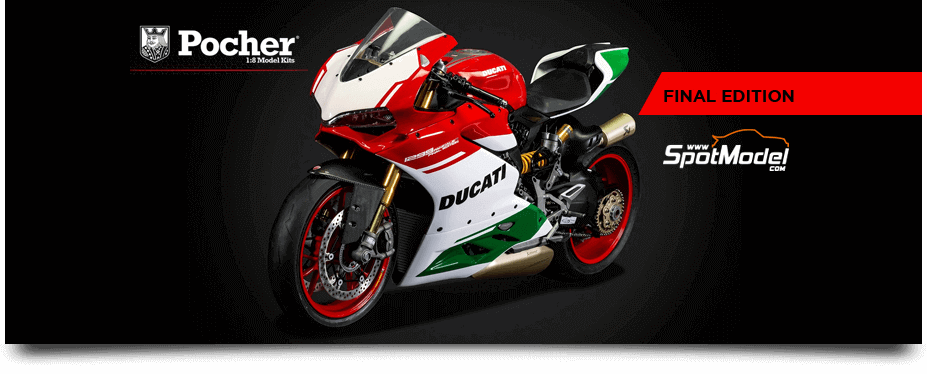 Final Edition
About
100 newsletters ago
, that is, 100 weeks ago, we announced that
Pocher was
launching 2,000 units of the
Ducati 1299 Panigale S Anniversario in 1/4 scale
and that they were going to fly. And so it was, the model arrived and flew away, sold out in just week. Many of you were left wanting for more, with tears in your eyes for not being able to get one in time.
Well, today we warn you again:
Pocher
launches a limited series of the
Ducati 1299 Panigale R Final Edition
, in 1/4 scale, with more than 600 parts, some of which will be served pre-painted. There is still no confirmed launch date, although it is estimated to happen by the middle of the year 2021, but keep in mind that
starting now
you can reserve your Ducati at
SpotModel
and just like that rest asured you will have your model, come hell or high water. Keep in mind that the manufacturer will close the unit request period soon and it is very likely that there won't be any units left after the product launch.
Open the throttle and reserve your Panigale now at
SpotModel
.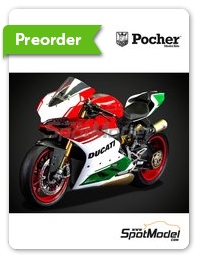 Pocher: Model bike kit 1/4 scale - Ducati 1299 Panigale R Final Edition - plastic parts, rubber parts, turned metal parts, water slide decals, other materials and assembly instructions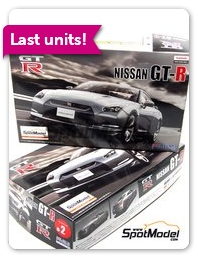 Fujimi: Model car kit 1/24 scale - Nissan GT-R - paint masks, plastic parts, rubber parts, water slide decals, assembly instructions and painting instructions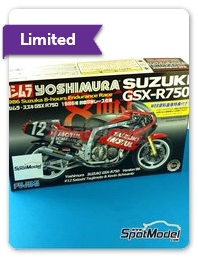 Fujimi: Model bike kit 1/12 scale - Yoshimura Suzuki GSX-R750 sponsored by Motul #12 - Kevin Schwantz (US) + Satoshi Tsujimoto (JP) - 8 Hours Suzuka Endurance Race 1986 - plastic parts, rubber parts, water slide decals, assembly instructions and painting instructions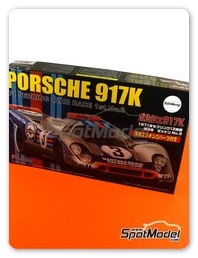 Fujimi: Model car kit 1/24 scale - Porsche 917K sponsored by Martini #3 - Vic Elford (GB) + Gérard Larrousse (FR) - 12 Hours Sebring 1971 - photo-etched parts, plastic parts, rubber parts, water slide decals, assembly instructions and painting instructions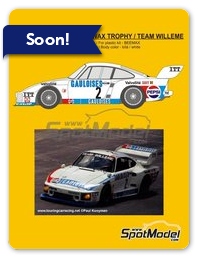 Reji Model: Marking / livery 1/24 scale - Porsche Kremer 935 K2 Willeme Team sponsored by Gauloises #2 - 24 Hours SPA Francorchamps 1980 - water slide decals and assembly instructions - for Beemax Model Kits references B24015, 105108 and aos10510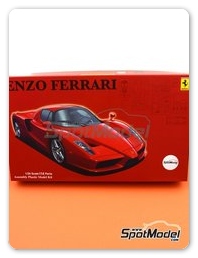 Fujimi: Model car kit 1/24 scale - Enzo Ferrari - paint masks, plastic parts, rubber parts, water slide decals, assembly instructions and painting instructions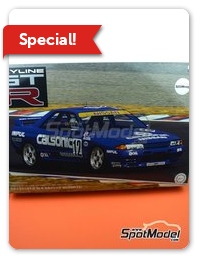 Fujimi: Model car kit 1/12 scale - Nissan Skyline GT-R BNR32 Group A sponsored by Calsonic #12 1992 - metal parts, plastic parts, rubber parts, other materials, assembly instructions and painting instructions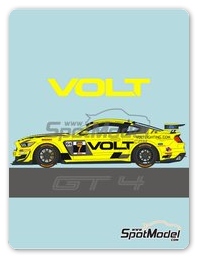 Blue Stuff: Marking / livery 1/24 scale - Ford Mustang GT4 Volt Racing Team #7 - Watkins Glen 6 Hours, IMSA Road America 2018 - water slide decals, assembly instructions and painting instructions - for Tamiya reference TAM24354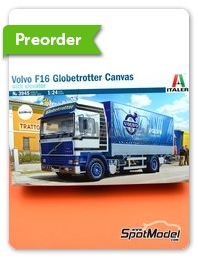 Italeri: Model truck kit 1/24 scale - Volvo F16 Globetrotter Canvas with elevator - plastic parts, rubber parts, water slide decals, assembly instructions and painting instructions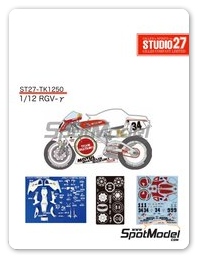 Studio27: Marking / livery 1/12 scale - Suzuki RGV-Gamma XR-79 #34 - Motorcycle World Championship 1993 - photo-etched parts, resin parts, water slide decals and assembly instructions - for Tamiya reference TAM14089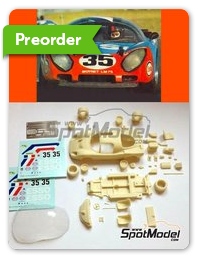 Profil24: Model car kit 1/24 scale - Moynet LM 75 sponsored by Esso #35 - Marianne Hoepfner (FR) + Michele Mouton (FR) + Christine Dacremont (FR) - 24 Hours Le Mans 1975 - photo-etched parts, resin parts, vacuum formed parts, water slide decals and assembly instructions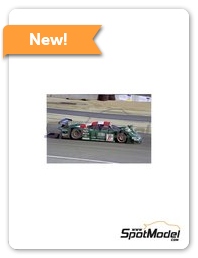 Profil24: Model car kit 1/24 scale - Porsche 911 GT1 98 sponsored by Jever #6 - 6 Hours Silverstone, 24 Hours Le Mans Tests, Laguna Seca 1998 - photo-etched parts, resin parts, seatbelt fabric, vacuum formed parts, water slide decals, other materials and assembly instructions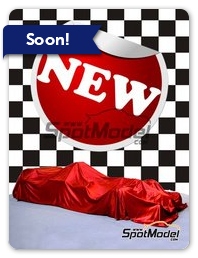 Profil24: Model car kit 1/24 scale - Bristol 450 Bristol Aeroplane Co Team #33, 34, 35 - 24 Hours Le Mans 1954 - photo-etched parts, resin parts, vacuum formed parts, water slide decals, assembly instructions and painting instructions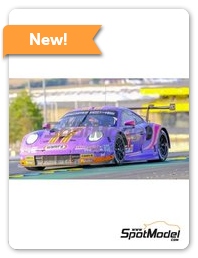 Profil24: Model car kit 1/24 scale - Porsche 911 GT3 RSR sponsored by Winn's #57 - Jeroen Bleekemolen (NL) + Felipe Fraga (BR) + Ben Keating (US) - 24 Hours Le Mans 2020 - photo-etched parts, resin parts, vacuum formed parts, water slide decals, assembly instructions and painting instructions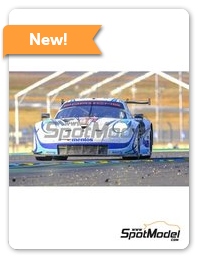 Profil24: Model car kit 1/24 scale - Porsche 911 GT3 RSR sponsored by Mentos #56 - 24 Hours Le Mans 2020 - photo-etched parts, resin parts, vacuum formed parts, water slide decals, assembly instructions and painting instructions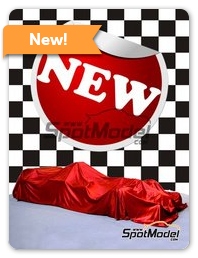 Profil24: Model car kit 1/24 scale - Porsche 911 GT3 RSR sponsored by Dempsey Proton #99 - 24 Hours Le Mans 2020 - photo-etched parts, resin parts, vacuum formed parts, water slide decals, assembly instructions and painting instructions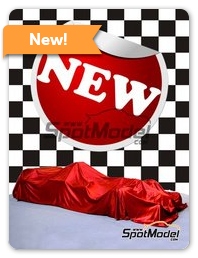 Profil24: Model car kit 1/24 scale - Porsche 911 GT3 RSR sponsored by Dempsey Proton #77 - 24 Hours Le Mans 2018 - photo-etched parts, resin parts, vacuum formed parts, water slide decals, assembly instructions and painting instructions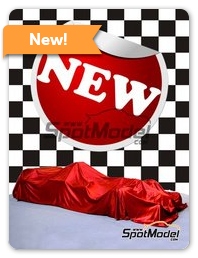 Profil24: Model car kit 1/24 scale - Aston Martin Vantage GTE #95 - 24 Hours Le Mans 2020 - photo-etched parts, resin parts, rubber parts, vacuum formed parts, water slide decals, other materials, assembly instructions and painting instructions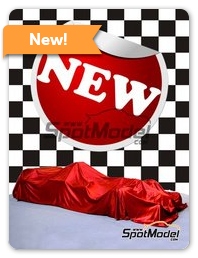 Profil24: Model car kit 1/24 scale - Aston Martin Vantage GTE sponsored by TFSport #90 - 24 Hours Le Mans 2020 - photo-etched parts, resin parts, rubber parts, vacuum formed parts, water slide decals, other materials, assembly instructions and painting instructions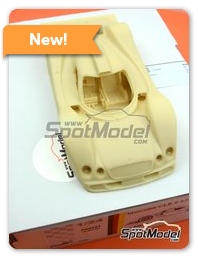 Profil24: Model car kit 1/24 scale - Mercedes CLR sponsored by Mobil1 #4, 5, 6 - Mark Webber (AU) + Jean-Marc Gounon (FR) + Marcel Tiemann (DE), Christophe Bouchut (FR) + Nick Heidfeld (DE), Bernd Schneider (DE) + Franck Lagorce (FR) + Pedro Lamy (PT) - 24 Hours Le Mans 1999 - metal parts, photo-etched parts, resin parts, rubber parts, seatbelt fabric, vacuum formed parts, water slide decals, assembly instructions and painting instructions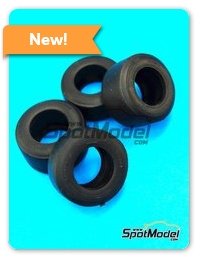 Model Factory Hiro: Tyre set 1/20 scale - Narrow slicks - FIA Formula 1 World Championship 1990 - polyurethane - for Tamiya kits - 4 units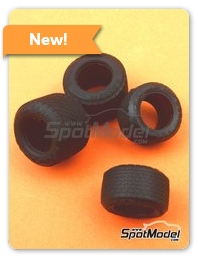 Model Factory Hiro: Tyre set 1/20 scale - 1980s F1 Rain tyre set - polyurethane - for Tamiya kits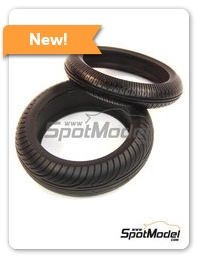 Model Factory Hiro: Tyre set 1/12 scale - MotoGP Bridgestone Motorcycle wet tyres - rubber parts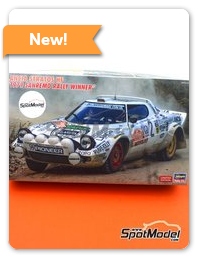 Hasegawa: Model car kit 1/24 scale - Lancia Stratos HF Jolly Club Team sponsored by Icarus Lancia Italia #2 - Antonio 'Tony' Fassina (IT) - Sanremo Rally 1979 - metal parts, plastic parts, rubber parts, water slide decals, assembly instructions and painting instructions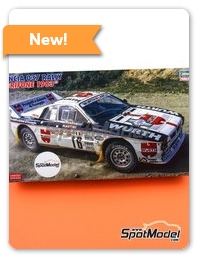 Hasegawa: Model car kit 1/24 scale - Lancia 037 Rally Grifone SRL Team sponsored by Würth #16 - Franco Cunico (IT) + E. Bartolich (IT) - Emerald Coast Rally 1983 - plastic parts, rubber parts, water slide decals and assembly instructions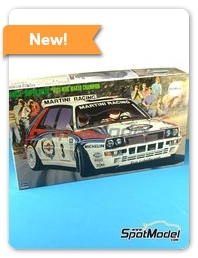 Hasegawa: Model car kit 1/24 scale - Lancia Super Delta HF Integrale sponsored by Martini Racing #3, 8 - Didier Auriol (FR) + Bernard Occelli (FR), Philippe Bugalski (FR) + Denis Giraudet (FR) - Tour de Corse 1992 - photo-etched parts, plastic parts, rubber parts, water slide decals and assembly instructions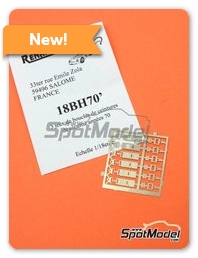 Renaissance Models: Seatbelts 1/18 scale - Seatbelts 70s - photo-etched parts - 6 units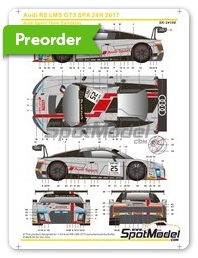 SK Decals: Marking / livery 1/24 scale - Audi R8 LMS GT3 Audi Sport Team sponsored by Sainteloc #25 - 24 Hours SPA Francorchamps 2017 - water slide decals, assembly instructions and painting instructions - for Nunu references PN24004, NU-24004, PN24004 and NUNPN24004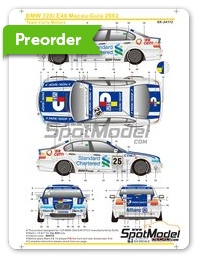 SK Decals: Marking / livery 1/24 scale - BMW 320i E46 Carly Motors Team sponsored by Parknshop #25, 26, 27 - Andre Couto (MO), Duncan Husiman (NL), Jorg Muller (NL) - Guia Race of Macau 2002 - water slide decals and assembly instructions - for Nunu references PN24007 and NU-24007, or SK Decals references SK-24113 and SK-24114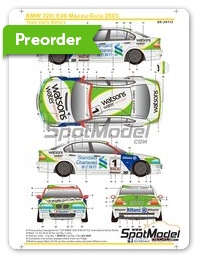 SK Decals: Marking / livery 1/24 scale - BMW 320i E46 Carly Motors Team sponsored by Watsons water #1, 2, 3 - Duncan Huisman (NL), Jörg Müller (DE), Andy Priaulx (GB) - Guia Race of Macau 2003 - water slide decals and assembly instructions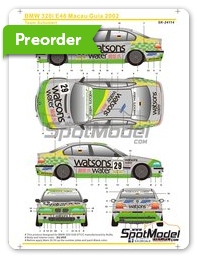 SK Decals: Marking / livery 1/24 scale - BMW 320i E46 Schubert Team sponsored by Watsons water #29 - Franz Engstler (DE) - Guia Race of Macau 2002 - water slide decals and assembly instructions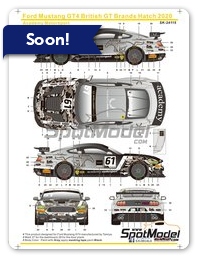 SK Decals: Marking / livery 1/24 scale - Ford Mustang GT4 Academy Motorsport Team #61 - British GT Brands Hatch 2020 - water slide decals and assembly instructions - for Tamiya reference TAM24354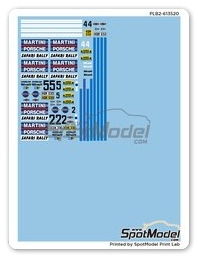 Print Lab Decals: Decals 1/43 scale - Land Rover Serie III LWB Station Wagon+Volkswagen Transporter T2 Bussi sponsored by Martini #2, 5 - East African Safari Rally - water slide decals manufactured with digital technology
Copyright © SpotModel