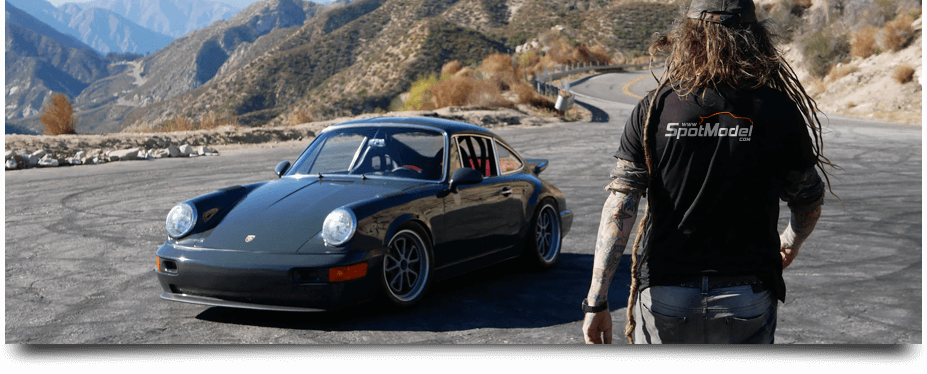 Magnus Walker
There is no doubt that Magnus Walker is a truly peculiar person. We met him a while ago at a car event, we took some selfies and chatted briefly. And what is the misfortune of poor Magnus Walker? Well, he likes cars, especially Porsches, like many of us. He owns quite a nice collection of them BUT...
...poor Magnus found out that the collection of cars we have is SO much bigger than his, and that made him very envious, he can't sleep well at night and he does not even feel like shaving XD. Of course we didn't tell him that our car collection is in 1/12, 1/20 and 1/43 scale... shhhhhhh
Joking aside, if you feel sympathy for this quirky motor collector, you can purchase a new
1/43 scale
Magnus Walker
figure from
DAB Models
(hey, it comes unpainted) that you can pre-order now at
SpotModel
.
So you can have fun yourself painting Magnus while the poor guy have to spend many hours cleaning his 1:1 scale cars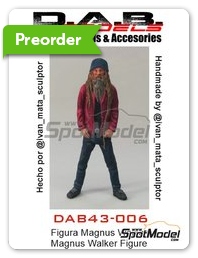 D.A.B. Models: Figure 1/43 scale - Magnus Walker - resin parts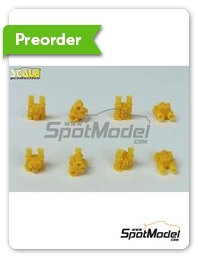 Scale Production: Detail 1/24 scale - Weber Carburators - 3D printed parts - 2 units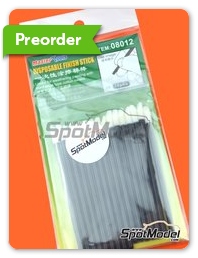 Trumpeter: Hobby tool - Disponsable finish stick - 16 units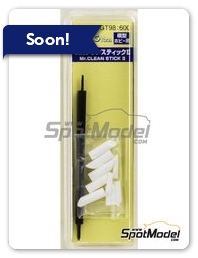 Mr Hobby Gunze Sangyo: Hobby tool - Mr Clean Stick II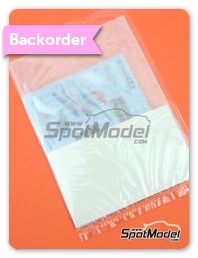 Tamiya: Spare part 1/12 scale - Honda CBR1000RR-R Fireblade SP: Decals and masks - paint masks, water slide decals and other materials - for Tamiya reference TAM14138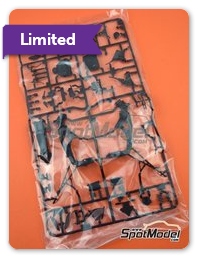 Tamiya: Spare part 1/12 scale - Honda CBR1000RR-R Fireblade SP: Sprue B - plastic parts - for Tamiya reference TAM14138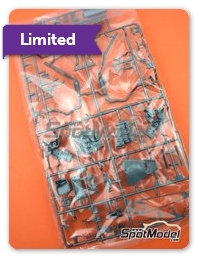 Tamiya: Spare part 1/12 scale - Honda CBR1000RR-R Fireblade SP: Sprue D - plastic parts - for Tamiya reference TAM14138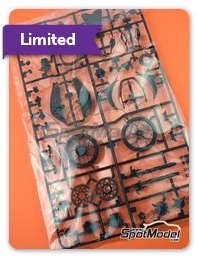 Tamiya: Spare part 1/12 scale - Honda CBR1000RR-R Fireblade SP: Sprue C - plastic parts - for Tamiya reference TAM14138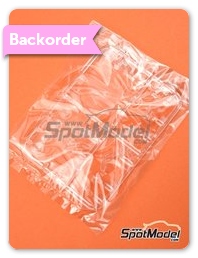 Tamiya: Spare part 1/12 scale - Honda CBR1000RR-R Fireblade SP: Sprue E - plastic parts - for Tamiya reference TAM14138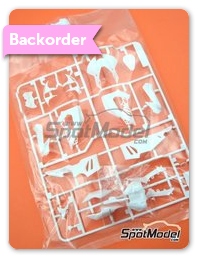 Tamiya: Spare part 1/12 scale - Honda CBR1000RR-R Fireblade SP: Sprue A - plastic parts - for Tamiya reference TAM14138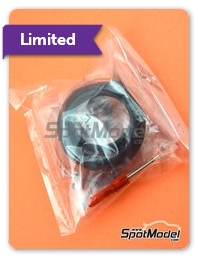 Tamiya: Spare part 1/12 scale - Honda CBR1000RR-R Fireblade SP: Tyres - rubber parts and other materials - for Tamiya reference TAM14138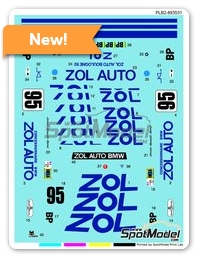 Print Lab Decals: Marking / livery 1/24 scale - BMW M1 sponsored by Zol Auto #95 - 24 Hours Le Mans 1980 - water slide decals manufactured with digital technology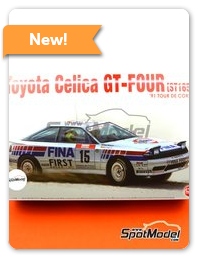 Nunu: Model car kit 1/24 scale - Toyota Celica GT-Four ST165 Group A sponsored by Fina Bastos #15 - Klaus Wicha (DE) + Marc Duez (BE) - Tour de France Automobile - Tour de Corse 1991 - plastic parts, rubber parts, water slide decals, assembly instructions and painting instructions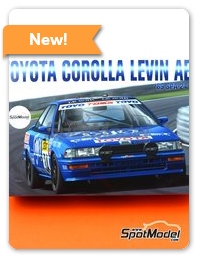 Nunu: Model car kit 1/24 scale - Toyota Corolla Levin AE92 Group A #34 - 24 Hours SPA Francorchamps 1989 - plastic parts, rubber parts, water slide decals, assembly instructions and painting instructions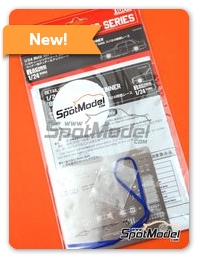 Nunu: Detail up set 1/24 scale - BMW M3 E30 Sport Evolution II - photo-etched parts, seatbelt fabric, turned metal parts, water slide decals and assembly instructions - for Nunu references PN24014, PN-24014, PN24017, PN-24017, PN24019 and PN-24019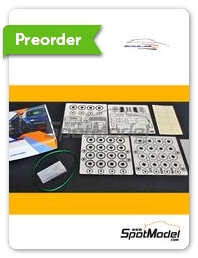 ScaleLab 24: Detail up set 1/24 scale - McLaren Senna - paint masks, photo-etched parts, seatbelt fabric and turned metal parts - for Tamiya references TAM24355, T24355 and TAM24355ST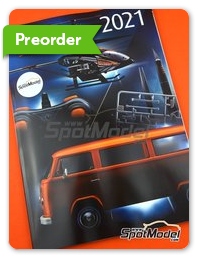 Revell: Catalogue - Revell catalog 2021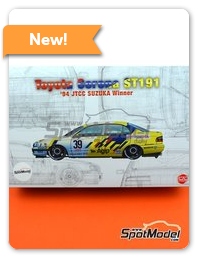 Nunu: Model car kit 1/24 scale - Toyota Corona ST191 sponsored by Agip #38, 39 - Tom Kristensen (DK) - JTC InterTEC championship Fuji Speedway, Japan Touring Car Championship (JTCC), Suzuka 500km 1994 - plastic parts, rubber parts, water slide decals, other materials, assembly instructions and painting instructions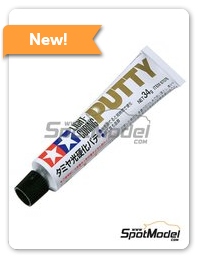 Tamiya: Putty - Light curing Putty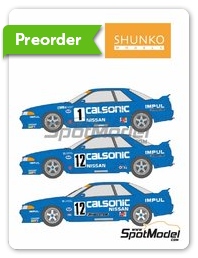 Shunko Models: Marking / livery 1/24 scale - Nissan Calsonic Skyline GT-R Group A #1, 12 - Kazuyoshi Hoshino (JP) + Masahiko Kageyama (JP), Toshio Suzuki (JP), Anders Olofsson (SE) - Japanese Grand Touring Car Championship (JGTC) 1991 and 1993 - water slide decals and assembly instructions - for Tamiya reference TAM24102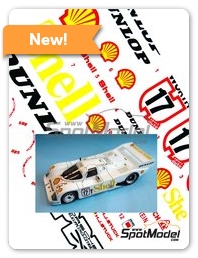 Reji Model: Marking / livery 1/24 scale - Porsche 962C sponsored by Shell Dunlop Wurth #17 - Hans-Joachim Stuck (DE) - 1000 Kms Nürburgring 1987 - water slide decals and assembly instructions - for Hasegawa references 20280, 20283, 20294, 20318, 20337, 20345, hsg20345, HAS20345, 20363 and 20411, or Model Factory Hiro references MFH-K136 and K-136, or Profil24 reference P24010, or Revell references REV07251 and 80-7251, or SpotModel reference DISCONTINUED-022, or Tamiya references TAM24089, TAM24233 and TAM24313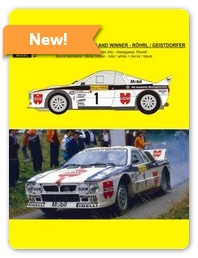 Reji Model: Marking / livery 1/24 scale - Lancia Rally 037 sponsored by Wurth #1 - Walter Röhrl (DE) - ADAC Deutschland Rally 1983 - water slide decals and placement instructions - for Hasegawa references 20264, 20277, 20299, 20399, 20414, 20447, 20485, 25030, CR-30, HACR30, 25030 and CR-30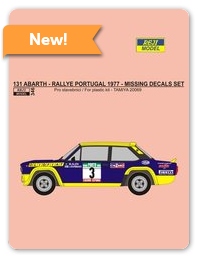 Reji Model: Marking / livery 1/20 scale - Fiat 131 Abarth Rally - Portugal Rally - Vinho do Porto 1977 - water slide decals - for Tamiya reference TAM20069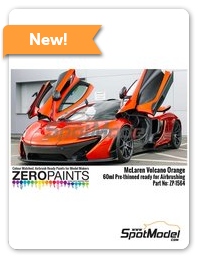 Zero Paints: Paint for airbrush - McLaren Volcano Orange - 1 x 60ml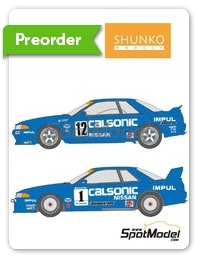 Shunko Models: Marking / livery 1/24 scale - Nissan Calsonic Skyline GT-R #1, 12 - Kazuyoshi Hoshino (JP) + Toshio Suzuki (JP) - Japanese Grand Touring Car Championship (JGTC) 1990 and 1994 - water slide decals and assembly instructions - for Tamiya references TAM24102 and TAM24184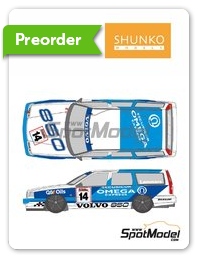 Shunko Models: Marking / livery 1/24 scale - Volvo 850 Estate sponsored by Securicor Omega Express #14, 15 - Jan Lammers (NL), Rickard Rydell (SE) - British Touring Car Championship - BTCC 1994 - water slide decals and assembly instructions - for Tamiya reference TAM24162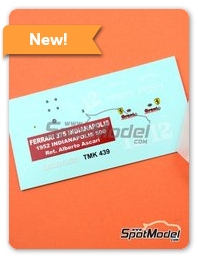 Tameo Kits: Marking / livery 1/43 scale - Ferrari 375 Indianapolis #12 - Alberto Ascari (IT) - Indianapolis 500 Miles 1952 - water slide decals - for Tameo Kits reference TMK439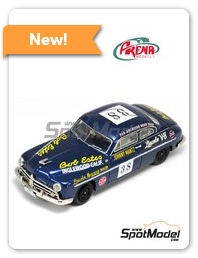 Arena Modelli: Model car kit 1/43 scale - Lincoln V8 Coupé #38 - Carrera Panamericana 1950 - resin parts, rubber parts, white metal parts, assembly instructions and painting instructions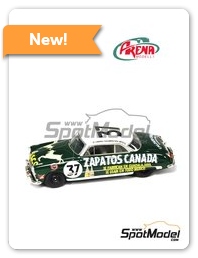 Arena Modelli: Model car kit 1/43 scale - Hudson Hornet Hollywood sponsored by Zapatos Canada #37 - Carrera Panamericana 1951 - resin parts, rubber parts, white metal parts, assembly instructions and painting instructions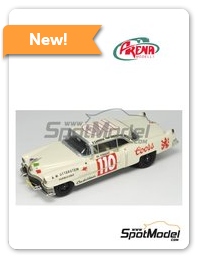 Arena Modelli: Model car kit 1/43 scale - Cadillac Serie 62 sponsored by Coors #110 - Carrera Panamericana 1954 - resin parts, rubber parts, white metal parts, assembly instructions and painting instructions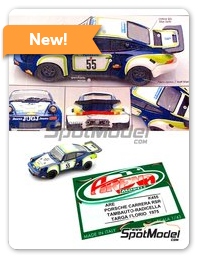 Arena Modelli: Model car kit 1/43 scale - Porsche 911 Carrera RSR sponsored by Tambauto #55 - Radicella - Targa Florio 1975 - resin multimaterial kit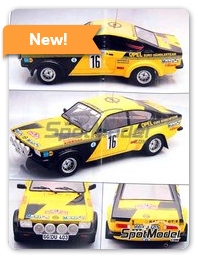 Arena Modelli: Model car kit 1/24 scale - Opel Kadett GTE 1900 Group 2 Opel Euro Handler Team #16 - Walter Röhrl (DE) + Gerhard Berger (AT) - Monte Carlo Rally - Rallye Automobile de Monte-Carlo 1976 - resin multimaterial kit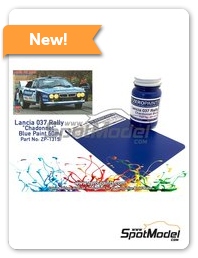 Zero Paints: Paint for airbrush - Lancia 037 Rally Chardonnet 1984 Tour de Corse Blue - 1 x 60ml
Copyright © SpotModel